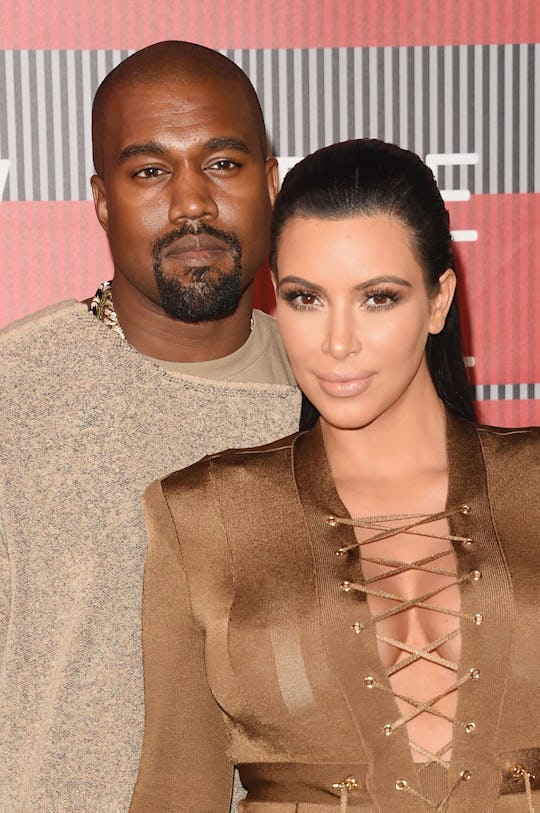 Jason Merritt/Getty Images Entertainment/Getty Images
Kim Kardashian Says Kanye Wants More Kids, So She's Considering Using A Surrogate
Last night, Kim Kardashian West and Kayne West joined sister Khloe on the final episode of Kocktails With Khloé. (The series, which aired on FYI, was canceled after 14 episodes.) And while John Legend and a still-pregnant Chrissy Teigen also appeared, Kimye stole the show when Kardashian revealed West wants more kids. However, the news that is really making waves is how the couple may go about having more children: Kim Kardashian said she's considering a surrogate.
Of course, some are wondering why the 35-year-old mom of two would consider surrogacy. Is it because Kardashian struggled to conceive Saint or because both of her pregnancies were difficult? The truth is, women pursue surrogacy for a wide variety of reasons (and, famous or not, no mama needs to explain her decision, but Kardashian did choose to elaborate — a bit). During Kocktails With Khloé, Kardashian said another pregnancy would be "dangerous." Plain and simple.
It would be a really dangerous environment for me if I were to get pregnant again.
That doesn't mean Kardashian is ruling out more children; however, Kardashian also made it clear that after giving birth to Saint just four months ago, she isn't looking to get pregnant again any time soon. (A sentiment I can completely relate to, especially when I think back to those early postpartum days.)
I was so set with my two kids and happy with my life the way that it is, but Kanye has been mentioning it every single day lately for the past 10 days...[and] I was like, 'Why is he doing this to me?'
However, it should be noted that surrogacy is not without its own problems. The practice has come under fire in recent years as being exploitative, because many surrogate mothers are impoverished and destitute and are encouraged to provide "wombs-for-rent," according to Yale Global Online. But surrogacy supporters argue it allows otherwise childless men and women to have children, it empowers women to gain financial compensation for their services, and it is a human right.
Kardashian and West have two children together, North (2, and pictured above) and Saint. And whether Kimye decides to expand their family — and whether they genuinely explore surrogacy — is a private matter, and a personal one, and I wish the power couple nothing but the best.