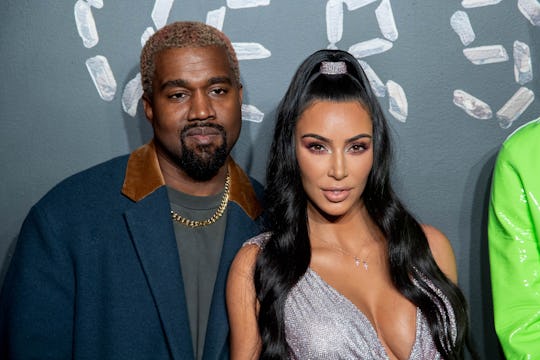 Roy Rochlin/Getty Images Entertainment/Getty Images
Kim Kardashian Says Kanye West Doesn't Want Help With Raising Their 4 Kids
I'm a firm believer that everyone gets to choose their own path when it comes to parenting, so I wasn't too concerned when Kim Kardashian said Kanye West is on "no-help" kick with raising their four kids. The fact that two famous people don't want to rely on babysitters is pretty refreshing, right? Not that there's anything wrong with having nannies, of course. But I couldn't help but feel a teensy bit frustrated upon learning that West seemingly didn't grasp how much work is involved in raising four young kiddos before he made the decision, as Kim outlined during a recent episode of The View.
The KKW mogul and her rapper husband are parents to 6-year-old daughter North, 3-year-old son Saint, 1-year-old daughter Chicago, and 4-month-old baby boy Psalm. Trying to raise four kids under the age of six is a challenge no matter who you are, even if you are as wealthy and privileged as a Kardashian. And as the busy mom pointed out on a Sept. 13 episode of The View, she needs all the help she can get. But to her chagrin, West is on a "no-help" kick these days, meaning he doesn't want as much staff around.
Kardashian was on the talk show discussing her hectic life with her four kids and went into how difficult mornings can be, as per Us Weekly, and admitted that her famous husband wasn't exactly getting how much work was involved:
I can't even begin to tell you what getting ready in the morning is like. I do [have help] and I love everyone that has been so helpful, but my husband is on this no-help kick so I'm … like, 'OK, then you try the morning,' and I'll see my daughter with hair out to here. I think he gets it a little bit.
It's worth pointing out West's no-help kick might have been inspired by his kids, as Kardashian told the panelists that her kids "just want mom and dad" right now.
Perhaps unsurprisingly, Kardashian went on to answer whether or not she might want more children with an emphatic, "absolutely no more children." You can't blame her, right? Between all of her work commitments and the ages of her children, it's clear she's too busy to consider having another one... at least for now.
Circling back to West's strong opinions about parenting, it seems he also wasn't a fan of Kardashian letting North wear makeup. Kardashian told E! News on Friday that she was "in a bit of trouble" with her husband for the whole makeup thing:
I think he had it, he changed all the rules. I'd let her wear, you know, she has a little red for Christmas, I'd let her wear a red lip, or I'd let her do one pop of something. I'd let her, if she's wearing a black dress, a black lip.
Of course, all of this isn't to say West can't be a supportive partner and hands-on dad. He takes his kids to work with him, and he organizes family-oriented events on the regular. "He is honestly the most amazing dad; he loves her so much," Kardashian said about West's parenting of North, shortly after she was born, according to E! News. "He really is a hands-on dad."
Despite all of this, it's a little frustrating to hear West didn't immediately grasp how much work was involved in the morning routine. Because as Kardashian noted, it's a tough job. That being said, I'm glad to hear he "gets it" now.
Editor's Note: A previous version of this article mischaracterized Kim Kardashian's comments in reference to Kanye West. It has been updated to accurately reflect her views.