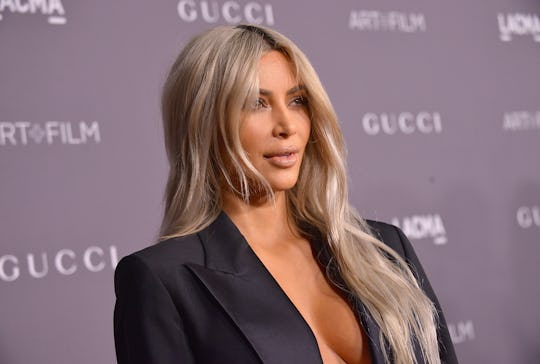 Charley Gallay/Getty Images Entertainment/Getty Images
Kim Kardashian Opens Up About Why Using A Surrogate For Baby No. 3 Is "So Much Harder"
Kim Kardashian-West and her husband, Kanye West, are reportedly closing in on the last months of pregnancy for their third child. While Kardashian has already had two children (4-year-old daughter North and 2-year-old son Saint), this time around things are a little different. Because with baby number three, the reality star isn't carrying her child in her own body, but rather is expecting a baby via surrogate. While she's obviously grateful for her surrogate, Kardashian said using a surrogate is "so much harder" for her. And her reason will make total sense to every mom.
During a recent interview with Entertainment Tonight, Kardashian opened up about becoming a mom for the third time. The reality star explained that she and West made the decision to bring their third child into the world via surrogate after Kardashian suffered from pre-eclampsia though both of her pregnancies. Pre-eclampsia is a dangerous and rare condition where the placenta does not always generate enough oxygen and nutrients for baby. Because of this condition, Kardashian's doctors advised against further pregnancies. And so, she and West decided to use a surrogate to grow their family.
While she told Entertainment Tonight that she was happy with her surrogate, she also noted that, "it's really different," explaining:
Anyone that says or thinks it is just the easy way out is just completely wrong.
As grateful as she says she is to welcome another child, Kardashian went on in the same interview to admit:
I think it is so much harder to go through it this way, because you are not really in control. And, you know, obviously you pick someone that you completely trust and that you have a good bond and relationship with, but it is still ... knowing that I was able to carry my first two babies and not, you know, my baby now, it's hard for me. So, it's definitely a harder experience than I anticipated just in the control area.
It would be a real struggle to give up that element of control to someone else who is carrying your child, no matter how strong the relationship might be. And Kardashian also pointed to another unique element of expecting a child via surrogacy; the preparedness element. She told Entertainment Tonight:
It is still a process that you need to digest. Even the fact that it is happening — and you do forget sometimes — because I think when you are pregnant, by the time you have the baby, you are so prepared and so ready, and now I am just like, "Oh my God I am going to freak out because I'm not ready and I'm not prepared," but it'll just all come into place.
Pregnancy obviously prepares a woman for parenthood in the most elemental ways; the change to your body, the lack of sleep, that subtle shift in the way you move through the world as an expectant mother. So it makes total sense that, having experienced the birth of her first two children in that way, using a surrogate would feel unfamiliar to Kardashian.
Surrogate.com offers tips for parents who are expecting a baby via surrogate. According to the site, it's vitally important for an "emotional transference" to happen between the surrogate and the intended parents. Getting involved in the pregnancy in general is one of the first steps, and Kardashian seems to have that aspect covered. She recently hosted a "Tea for Three" baby shower for the new baby, and told Entertainment Tonight that she has involved her two children in the process.
The site also recommends talking to the baby, and providing a transitional item (like asking the surrogate to play your favorite music while the baby is in vitro) so the new baby will feel as though there is something familiar when they arrive home. And once the baby arrives, bonding through touch is perhaps one of the most important ways to complete the emotional transference.
Because as hard as it might be to relinquish an element of control, at the end of the day, Kardashian is going to have a new baby to care for. And I suspect those months of worry will eventually be forgotten.
Check out Romper's new video series, Romper's Doula Diaries:
Watch full episodes of Romper's Doula Diaries on Facebook Watch.