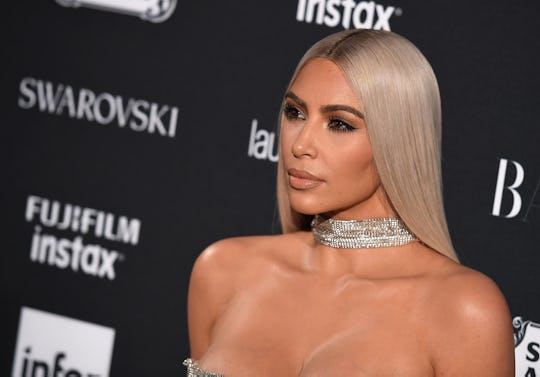 ANGELA WEISS/AFP/Getty Images
Kim Kardashian Isn't Ready To Talk About The Surrogacy Rumors
There is so much excitement surrounding the fact that Kim Kardashian and husband Kanye West could be expecting their third child. On Wednesday, People reported that Kardashian and West's surrogate was not only expecting their child, but she's reportedly pregnant with a baby girl and is due in the winter. But Kardashian and West have never confirmed this news. And in her first red carpet appearance since the news broke, it was revealed that Kardashian isn't ready to talk about the surrogacy rumors, neither confirming or denying them — and that is perfectly fine.
As exciting as the news is, fans need to respect Kardashian's silence (but, yes, can still freak out on the inside). During an event on Friday, Kardashian finally spoke about the surrogacy rumors, telling E! News:
I've definitely seen a lot of things, we've never confirmed anything. So, I think when we're ready to talk about it we will, and I think its super invasive when people are just...So many details out there, and like I've never heard this, I've never heard this. Like whatever. We have not confirmed it and that's that. I'll let you know when we're ready.
Kardashian's words are something fans should listen to. Her life has been an open book for more than a decade and, as she said, she will let fans know when she is ready to make that announcement. And right now is not the time for her to do so.
Kardashian is right, there is a lot of information out there about her surrogate so far. For instance, on Wednesday, People reported that the surrogate that Kardashian and West hired to carry their third child was pregnant and expecting their third child due in January. Later that day, TMZ reported that the surrogate was expecting a girl.
Kardashian's decision to reportedly use a surrogate was based on the fact that she developed placenta accreta during her previous pregnancies, which could kill her if she decided to carry another baby to term, according to TMZ. In fact, the reality star expressed her desire to use a surrogate during an episode of Keeping Up with the Kardashians last year, telling family members on the show that she wanted "to explore surrogacy" to expand her family, according to The Daily Mail.
But, given Kardashian's recent comments, all of this is purely speculation until it is confirmed (or debunked) by West and Kardashian themselves.
It is clear right now, though, that Kardashian wants and deserves her privacy, even if she is a huge celebrity who puts (almost) everything in the public eye. And at the same time, you have to think about West and Kardashian's reported surrogate, whose life and background has suddenly become the topic of conversation.
It's OK to be super happy about the news that Kardashian is reportedly expecting her third (believe me, I can't contain my excitement). How can you not be? But it is also important to keep in mind that Kardashian and West are clearly not yet ready to talk about it and share this intimate chapter of their lives with their many, many fans and followers. But, honestly, when they are ready to talk, it will be just as — if not more — exciting to hear it from them.
Check out Romper's new video series, Romper's Doula Diaries: