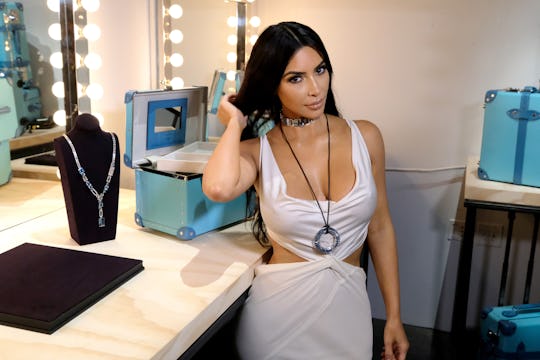 Dimitrios Kambouris/Getty Images Entertainment/Getty Images
Kim Kardashian Stops Mom-Shamers In Their Tracks As Per Usual
Kim Kardashian-West is nothing if not a capable social media influencer. Even when the KKW mogul is under enormous pressure, her Instagram game is essentially better than almost everyone else on the planet. Even when it comes to her kids. The mom of three has a long history of dealing with critics who are waiting to attack her for any slight parenting mistake (in their eyes), but of course she's figured out how to deal with it all. Kim Kardashian stopped mom-shamers in their tracks when she shared a recent picture of 2-year-old son Saint and 8-month-old daughter Chicago. Because that's the world she lives in, unfortunately.
Kardashian and her husband, rapper Kanye West, are in the middle of a visit to Uganda where they met Ugandan president Yoweri Museveni. The Keeping Up With The Kardashians star already seems to have a whole lot on her plate with her husband's recent pro-Trump rant on Saturday Night Live and incredibly strange White House visit. But does she allow her husband's questionable behavior to faze her? Privately perhaps. But publicly? Kim is holding it together. Especially when it comes to dealing with her children. She shared a picture of herself with her two younger children on Instagram on Monday.
In the picture, Saint is holding his mom's hand and has something in his mouth. But guys, don't even think about calling that a pacifier. As Kim noted in the photo caption:
Missing my babies!!!!! P.S. mom shammers it's not a pacifier, he's eating candy!
The last bit of the caption was actually added on after mommy shamers did actually criticize her for allowing her son to use a pacifier... I guess forgetting that she's allowed to raise her child how she sees fit. Comments like "children shouldn't be using a pacifier past age 1, it's recommended that they don't use one even after 6 months…"
Clearly these two little ones look terribly unhappy, right?
Fortunately there always seems to be a flip side to the mommy shamers. People who stick up for other moms like Kim who are simply doing their best and shared their support on her Instagram page.
You shouldn't even allow people to comment about your kids lol. Just put the pictures and remove the comments. They will judge not matter what @kimkardashian This world is sick, you know better. Beautiful family ❤️
The fact that she needed to explain what her son is eating is a shame. That's her son. She can raise her son how she wants. You should not shame her as a mother. We're suppose to be lifting each other up, not down.
Here's the thing; every parent gets to make decisions about whether or not their babies use a pacifier. It's not up to anyone else to judge those choices, even if it's someone famous who makes you don't happen to like. Even Kardashian moms get to make these decisions for their own kids.
And if you do decide to go after Kim Kardashian's parenting? Clearly she's going to be able to handle herself.