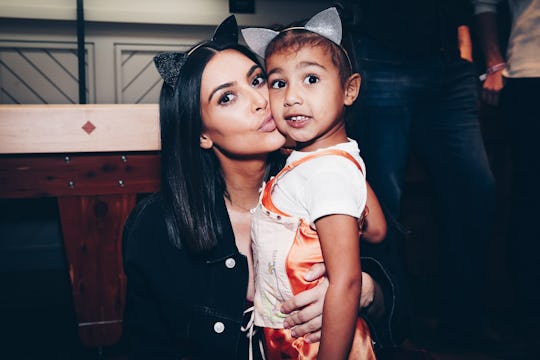 Handout/Getty Images Entertainment/Getty Images
Kim K Volunteered At A Food Bank With North, Teaching Her A Lesson Every Kid Should Learn
In 2017, Kim Kardashian West seems to know she has a lot to be thankful for. There's her thriving career as a reality star and children's clothing designer for Kid's Supply. Her children (4-year-old daughter North and 2-year-old son Saint), plus a third child on the way via surrogate with rapper husband Kanye West. Her life appears to be pretty blessed, but that doesn't mean she's turning a blind eye to those less fortunately. Kardashian took North to the L.A. Food Bank to volunteer during Sunday night's episode of Keeping Up With The Kardashians, because she says she doesn't want to be "naive" about the problems of the world any longer.
It seems that Kim was driving through Skid Row, a neighborhood in Los Angeles' downtown area, with sisters Kourtney and Khloé, and was shocked to see how much bigger the city's homeless population has become. She said it got her thinking about her late father, lawyer Robert Kardashian, according to People:
My dad used to drive us to Skid Row when we were little, to show us that the rest of the world doesn't live how we live in Beverly Hills. And that always stuck with me.
Rather than turning a blind eye on a tragic situation, Kim decided to educate herself and try to make a difference.
There are approximately 58,000 homeless people trying to survive in Los Angeles County, according to a report by The Los Angeles Times in May. Of that 58,000, nearly 43,000 have no shelter. That's a 23-percent increase in the last year alone, an increase that has been attributed to the exorbitant cost of rent in the area, as noted by Los Angeles Mayor Eric Garcetti who told The L.A. Times:
There's no sugarcoating the bad news. We can't let rents double every year. I was particularly disappointed to see veteran numbers go up.
During KUWTK on Sunday, Kim was galvanized into action by the distressing situation she witnessed. She explained in the episode:
I am just at a point in my life where I don't want to be naïve anymore. And I want to use my platform to get other people involved. … I just hope that I can shine a light on this issue, and hopefully more people will come together and we can figure out a solution for this.
Kim, Kourtney, and even little North headed down to the L.A. Food Bank to volunteer their time, and perhaps even more importantly, to use their massive platform to reach people. The trio's visit to the food bank was filmed in October and aired Monday on KUWTK, according to Metro. Yes, the volunteer work helps Kim's image, but she could've done that without North there. Seeing her mom volunteer to help people, and helping them herself, will teach North an important lesson about helping others in their time of need.
As wonderful as it is to see a celebrity lending a hand and lending a platform to such a vital issue, it is the image of North wearing plastic gloves and a look of concentration while handing a bag of carrots to someone that is especially wonderful. Because here's the thing: empathy is an important trait to teach children, as is the importance of helping people who are struggling. According to Child Development, a 2014 study found that kids aged 3 to 6 who were praised for being helpful to people tended to act more generously in general in the future.
And Kim went even further than volunteering at the food bank; she and sister Khloé visited the oldest and largest rescue missions in Los Angeles. The first was Union Rescue Mission, where they learned that there were only 12,000 shelter beds available for the homeless people in the city, which is not nearly enough.
Kim then organized a party for the women and children who have taken shelter at Alexandria House, a long-term shelter for women and single mothers. Kim got together with several companies to try to affect real change for the women of Alexandria House, providing resume workshops and money management coaching. As Kim noted on KUWTK:
The people I've met, they're just going through hardships. Maybe they lost their job, maybe they're having a hard time. There are so many different stories, and I think that's the most important thing to remember.
It's also such an important message to pass along to North, who is arguably going to enjoy a life of luxury far and beyond anything most people can imagine. Kim hopefully gave her daughter an important gift this Thanksgiving — the gift of empathy.
Check out Romper's new video series, Romper's Doula Diaries:
Watch full episodes of Romper's Doula Diaries on Facebook Watch.