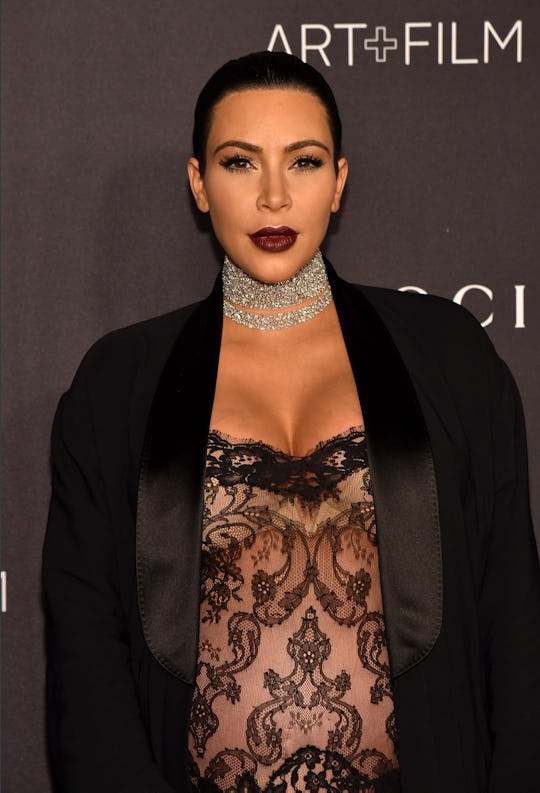 Mike Windle/Getty Images for LACMA
Kim Kardashian Wants A Push Present, & There's Nothing Wrong With That
Apparently Kim Kardashian has finally warmed up to the idea of a push present, and has a handy-dandy list ready for anyone who'd like to bestow gifts upon her child-bearing, amazing bod once North West's little brother makes his arrival in the next few weeks. Kim K wants a push present, and as you probably already guessed, it's no ordinary gift she's asking for. Keeks gave Kanye (and the world), a pretty bedazzled list of potential presents, and a Lorraine Schwartz diamond choker is at the top of her list.
For someone who "never believed" in push presents before, she certainly has come around with a firm grasp of what she wants from her partner, Kanye West. To be honest, I can't say I blame her for her opulent push present choices. When you think about how lavishly they live from day to day, and the kind of thought Kim puts into gifts for Kanye (like when she rented out The Staples Center so he could play basketball with his celeb friends for his birthday), why shouldn't Kim get a fancy present to commemorate giving birth?
On her blog, Kim wrote:
After nine months of pregnancy it's a sweet and well-deserved thank you.
I couldn't have said it better. While I don't think a push present is a necessity for everyone by any means, I don't think there's a damn thing wrong with getting a "well-deserved thank you" from your partner after enduring pregnancy and childbirth.
Kardashian, of course, hasn't just endured the nine months of pregnancy, but also has dealt with unending media attention and criticism throughout her pregnancy. Someone is always ready to pounce on what she's wearing or how much weight she is gaining. There's constantly someone waiting in the eaves to judge her pregnancy and parenting choices. So if she wants a bit of bling post-baby bearing, she can most certainly have it as far as I'm concerned.
And let's not forget that Kim hasn't exactly had the easiest time carrying her son. Kim's high-risk pregnancy has been fraught with challenges. Because of complications in her previous pregnancy — Kim had both preeclampsia and placenta accreta — Kim's at a higher risk for those same issues (and others, like a hysterectomy) following the birth of her son later this year. In a separate blog post titled "High Risk Pregnancy," Kim got candid about her fears this time around. She said:
With the issues I had last time, my risk of having preeclampsia and placenta accreta are increased and there's not a whole lot I can do to prevent it, so my anxiety is a little high leading up to my delivery. I have some days I get SO scared.
I think it'd be hard for any of us — pregnant or not — to judge Kim wanting (nay deserving) a little bling after all she's been through this time around. It's no shocker that Kim hates being pregnant, but she's done it because she wants to build a family and wants a sibling for her daughter, North. (And maybe she's thinking of giving her son another N name?)
As for her list, while it may seem lavish to me, I can't really judge it as such. It's not "wrong" for her to want something that's out of reach for most of us. Budget-wise, Kardashian getting a diamond choker from her husband is about the equivalent of my husband going out to get me victory waffles post-birth from our local diner. If I were to give Kim some push-present advice here, it wouldn't be to get a grip on her push-present obsession, but to dream bigger. Ask for diamonds and waffles, girl.
Kim wrote:
We women go through an entire pregnancy carrying a baby. Of course it only makes sense that we get something amazing to show how amazing we are!
I must say, I agree. There is nothing more grueling than pregnancy and childbirth. If there is ever a time when a woman deserves a gift to commemorate her badassery, it's after shoving a human freaking being out of her vagina. It's an achievement and then some, but one which is immediately eclipsed by the presence of a new baby. So, yeah, you go get your push present Kim Kardashian. You've earned it.
Image: Mike Windle/Getty Images for LACMA