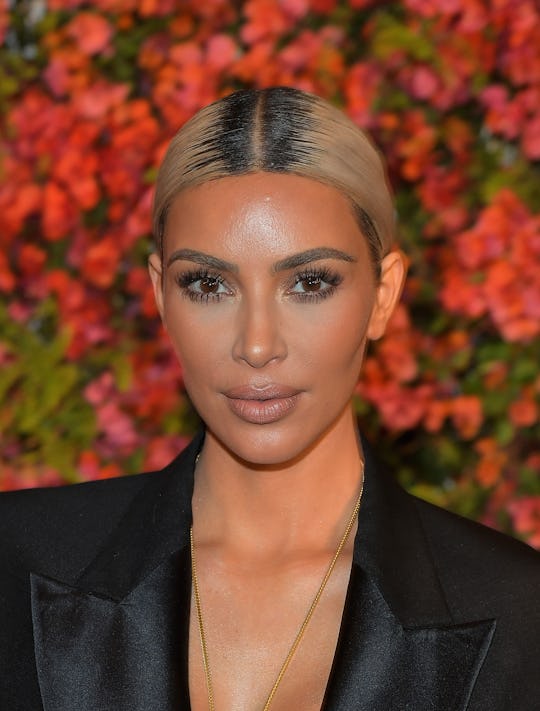 Charley Gallay/Getty Images Entertainment/Getty Images
Kim Kardashian West Is Creating A Kid's Prank Show & It's Guaranteed Comedy Gold
Fans of Keeping Up With The Kardashians are all well-versed in the family's history of playing pranks on each other. Hardly an episode goes by without Khloé dumping an entire cake over her mother's head or any member of the family putting on disguises to prank the paparazzi. It's sort of their thing. So it makes total sense that Kim Kardashian West is creating a kids' prank show. Enabling a new generation of pranksters is right in her wheel house.
Kardashian West announced that she's going to be the executive producer of a digital series called You Kiddin' Me, which will run for 10 episodes on the Facebook Watch video platform. The show will see celebrity kids playing pranks on their famous parents. It's unscripted, which is a bold move for any show, but an unscripted show featuring celebrity kids playing pranks on their parents... so much could go gloriously wrong. Especially considering the fact that viewers will apparently have some input. Fans of the show will be able to give ideas on the sort of pranks they want to see used and even the celebrity families they might want to see involved via Facebook. It's truly a recipe for comedy gold. And a formula all members of the Kardashian-Jenner clan should recognize well.
Kim is the mother of three children, 4-year-old North, 2-year-old Saint, and new baby Chicago, and seems to be embracing a new, family-oriented outlook these days. As she noted in a statement shared with People:
I know from firsthand experience that children are wise beyond their years and can come up with the craziest things, so imagine how funny it will be to see them make all the decisions? I'm delighted to be working with the Lionsgate and Facebook teams on this exciting new venture and invite viewers to witness their favorite celebrity parents get pranked when we launch the series on Facebook Watch.
This isn't the only family-related show that Kim is planning to be involved with in the near future; she also recently announced that she and her husband, Kanye West, (as well as best friend Jonathan Cheban) went up against her mom Kris Jenner, sisters Khloé, Kendall and grandmother M.J. on an episode of Celebrity Family Feud. That's right, the majority of the Kardashian-Jenner clan and the famously mercurial Kanye West were on Family Feud, and here's what's even better... Kim said it's been a lifelong dream of Kanye's to be on the show. In a series of videos the KKW mogul shared on Snapchat, she explained:
If you guys don't know, Kanye and I are the biggest fans of Family Feud. Kanye said he's waited his whole life for this moment, Family Feud. We're playing against the Kardashian Jenners vs. the Wests. And I have a really good feeling about this, that we're going to win.
Sadly, little North West apparently couldn't quite make it on the episode that is set to air later this year. This wasn't even the first time the family appeared on the show; E! News noted that the Kardashians competed back in 2008 as well.
This new game show phase of the Kardashians should be exciting. I sort of love the fact that they're passing down their pranking skills on to the next generation, and I love it even more that Kim Kardashian West is bringing back a winning formula for entertainment. Celebrities, kids, pranks... what's not to love about all of this? My fervent wish is that someone gets her own kids on the show to prank her, a little bit of the old switcheroo. That's comedy gold.