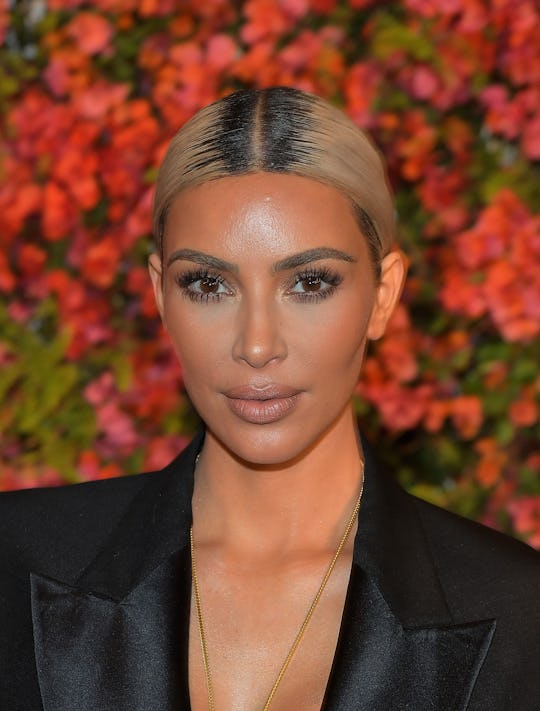 Charley Gallay/Getty Images Entertainment/Getty Images
This Photo Of Chicago West Is All You Need To See Today
I think I might be one of those people who never gets tired of baby pictures. Pictures of babies I know in real life, sure, but most especially celebrity babies and I know you're not judging me because you feel the same way, right? So naturally I was excited when Kim Kardashian West shared a new photo of baby Chicago. Because now I can drink my coffee and over-analyze her photo for family resemblance. Join me, why don't you?
Kim Kardashian West and her husband, rapper Kanye West, welcomed their third baby via surrogate on Jan, 15, which means the little girl is just slightly over two months old. She joins her 4-year-old sister North and 2-year-old brother Saint as part of the happy family of five, and so far her mom hasn't been sharing a whole lot of pictures of the new baby. And I don't want to criticize or anything here, but some of us on the internet have been getting a little antsy. After all, the Kardashian/Jenner clan has been ruling the internet for years, and then suddenly everyone is having babies and going silent on social media (I'm looking at you, Kylie Jenner). But now that there's another adorable pic of Chicago West all is forgiven. For now.
In the picture which Kim K. shared on Saturday morning with the caption "Morning cutie," baby Chicago is looking full on at the camera with the beginning of a smile lighting up her face. She has a full head of hair, and I think she looks a whole lot like her mom.
I'm not alone in this assessment. Fans took to Instagram and Twitter to share their thoughts on baby Chicago's resemblance to her mom as well.
Awhhh your mini me
She look like Kim... Saint and North look more like Kanye
This is only the second picture Kim K. has shared of baby Chicago, and the only one where fans get a clear image of her face. Prior to this, the KKW beauty mogul shared a picture of herself and baby Chi (which is apparently pronounced like "Shy") with an Instagram filter that, let's face it, was a little distracting. The picture still managed to wrack up more than 7 million likes, which should give you a clear indication of just how desperate people were to see the baby.
Chicago West is one lucky baby girl, of course. Not only does she have some pretty devoted parents and two older siblings, she's also going to have her own baby girl KarJenner cousin posse to enjoy. Kylie Jenner's baby girl, Stormi Webster, was born Feb. 1, just two weeks after Chicago. Here's the sweet baby girl being held by her great-grandmother, Mary Jo Campbell (who Keeping Up With The Kardashians fans know as "MJ").
Stormi's parents, Jenner and her boyfriend, rapper Travis Scott, managed to keep her arrival under wraps despite rampant social media rumors that hit dizzying proportions once media outlets started to share unconfirmed pregnancy reports last September. This seems to be a new trend for the KarJenners, as Khloé Kardashian kept her pregnancy a secret for some time as well. And her baby will make up the third member of the baby girl posse, as she pointed out in a tweet after finding out she was expecting a daughter with boyfriend Tristan Thompson.
There are plenty of other cousins, of course, and Rob Kardashian's daughter Dream is just one year older than these three little girls. But there's something sort of precious about these three sisters welcoming daughters just weeks apart. I'm not going to lie... the thought of all the baby pictures coming from the KarJenners is making me happier than it probably should.