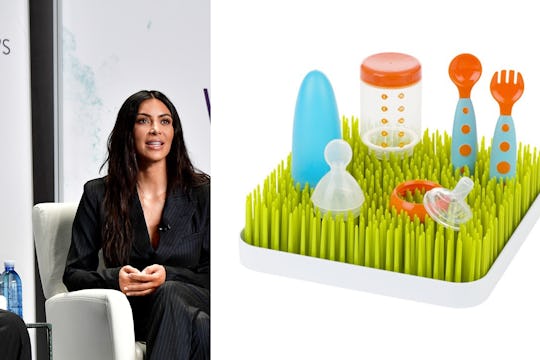 Dia Dipasupil/Getty Images Entertainment/Getty Images; Boon Inc.
Turns Out, Kim Kardashian's Favorite Mom Products Look A Lot Like Your Own Faves
Being a mom is really hard work, especially for the first few months, and Kim Kardashian West is no different in that regard. Now the mother of three, Kardashian says that there are a few products she just can't live without when it comes to raising kids. If you love Kim K, and want a little luxury and functionality to make your life easier as a mama, check out Kim Kardashian's favorite mom products that make life easier. Because seriously — they do. And she picked a great mix of expensive and frugal items to give you the ultimate helpers when it comes to being a mom.
There's a lot to consider and worry about when you bring a new baby home. And if you're a first-time mom, you may feel like you've gotten in over your head and are hoping for some gadgets to make your life easier. Though she's no stranger to dealing with newborn babies, Kim K agrees, and wrote on her app, "Life with a new baby can be so overwhelming! Safety, sleep schedules, breastfeeding — there's a lot to think about. I'm always picking up new tips and tricks from friends and family. I'm sharing some of my favorite mom products I've learned about over the years." Her favorite products include a nightlight with a built-in sound machine and thermostat, a smartphone-controlled sound machine, a sanitizer, a "next-level" camera, a drying rack, a wipe warmer, and even a wearable breast pump. Basically? Her list looks a lot like yours.