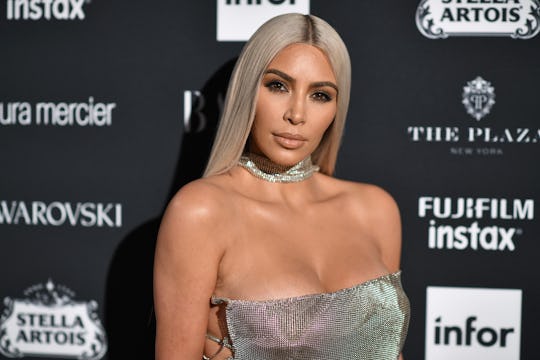 Dimitrios Kambouris/Getty Images Entertainment/Getty Images
Kim Kardashian's Instagram Pic Of Saint Hugging His Cousin Is #CousinGoals
The Kardashian/Jenner family has managed to somehow reinvent the concept of a baby boom as well as helping us all perfect our best selfies. And their fans aren't the only ones who are loving this cuddly, adorable stage of the famous family's story; it seems the KarJenner's are deep into baby fever, and it's beyond adorable. Kim Kardashian West's Instagram pic of Saint hugging his cousin is yet another example of how the next generation of the family might be getting more attention than their parents. And their parents are totally fine with it.
Of course, probably everyone on earth knows what Kim was doing this past week. The KKW mogul rushed home from a holiday in Turks and Caicos with her sister Kourtney and their kids to be by Khloé's side as she welcomed her first baby in Cleveland, Ohio. This is the final baby of the triple-threat of baby girls the family was expecting; first was Kim Kardashian West's daughter, Chicago, who was born via surrogate on Jan. 15. Then came youngest sister Kylie Jenner's daughter Stormi Webster, who arrived on Feb. 1 to much fanfare and relief (since she wouldn't tell us anything about her pregnancy, not that she had to, of course). And now there's Khloé's baby. But don't go thinking the family has forgotten about the last babies born to the family, as evidenced by a picture of Kim's 2-year-old son Saint hugging his 1-year-old cousin, Dream Kardashian, who is the daughter of Rob Kardashian and Blac Chyna.
I mean, can we just take a minute here to adore Dream Kardashian? I love that the family is showing her lots of love these days, because with three new babies to fuss and coo over in the family, it can be pretty hard for a little one who is used to getting loads of attention. Although it looks like her cousins are pretty happy to step up and hang with wee Dream; Rob Kardashian shared a pic of cousins North and Dream on his Instagram back in February that is just too cute for words.
Editor's Note: The Instagram post has since been deleted.
Kourtney's daughter Penelope Disick likes to get a little Dream time in as well, when she can.
Editor's Note: The Instagram post has since been deleted.
It might be nice for Dream Kardashian to get to be the big girl in the next group of little girl cousins, actually. She might get to be the leader of the pack with little Stormi, Chicago, and whatever Khloé is planning to name her little girl. And how much fun will that be to watch as the babies get older?
As for Kim's little boy Saint... well, this kid just seems to be full of love for the babies. Here he is giving his baby sister Chicago a big kiss.
It seems highly unlikely that the Kardashian/Jenner kids have met Khloé's little girl yet. After all, she just gave birth on Thursday and remains in Cleveland where she moved to be closer to boyfriend Tristan Thompson. Kim, Kourtney, and mom Kris Jenner all flew in to Cleveland to support Khloé as she gave birth for the first time ever. And Kim was clearly moved by the experience; she tweeted about the experience of watching her sister welcome her "beautiful" little girl on Friday, and even mentioned that she helped with the birth by "holding your leg while you pushed."
The Kardashian/Jenner family are all about the kids these days, and it's genuinely wonderful. Whether they're welcoming new babies or making sure the older kids feel loved and included, the entire family seems to really be enjoying this stage of their lives.
And so do their fans.