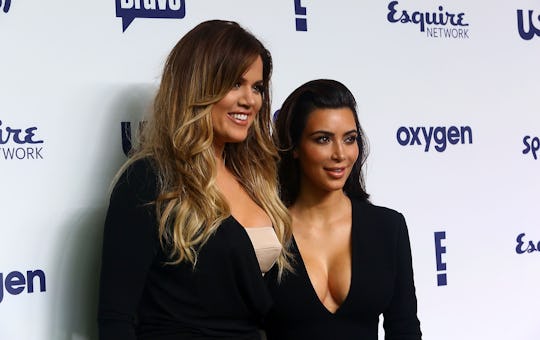 Astrid Stawiarz/Getty Images Entertainment/Getty Images
Kim Kardashian's Latest Pic Of True & Chi Is All About Sweet Cousin Love
When news first slowly trickled out that three of the Kardashian/Jenner sisters were expecting babies within months of each other, fans were excited. When we found out all three were expecting baby girls, fans pretty much lost their minds. Nothing against all those precious baby boys out there, but the thought of next-gen KarJenner girls taking selfies some day was utterly delicious. As is Kim Kardashian's latest pic of True and Chi, or as I like to think of it; the culmination of all our dreams finally coming to pass.
Kim Kardashian-West welcomed her third child, daughter Chicago West, via surrogate on Jan. 15. She and rapper husband Kanye West are already parents to 5-year-old daughter North and 2-year-old son Saint. Just two weeks after Chicago (who is called "Chi") was born, Kim's youngest sister Kylie Jenner gave birth to her first child, daughter Stormi, on Feb. 1 with boyfriend Travis Scott. Cut to April 12 and it was finally Khloé Kardashian's turn to have her first little girl, True Thompson, with boyfriend Tristan Thompson. Now that all of the newest KarJenner babies have been born, we are finally getting a few group shots every now and then. And the latest picture of cousins True and Chi gives a real sense of their little personalities, which is just the best.
In the picture, 7-month-old Chi is sitting on the most luxurious-looking carpet that has ever existed, wearing a onesie and a diaper. She is beside her 5-month-old cousin True, who is sitting in a little chair wearing a sweet dress with a big grin on her face as she chews on her fingers. So here's what's so great about this picture; it sort of seems like a very concerned-looking Chi is holding True back protectively while she sits there all chill and relaxed. Clearly Kim thought the same thing because she captioned the Instagram post:
I got this True
Kim also shared the pic on Twitter, where fans couldn't help noticing how much Chi looks like her mom.
This isn't the first time the little cousins have enjoyed a cute photo shoot together. At the beginning of August Kim shared a shot of the two cousins intently enjoying some belly time together with the caption:
Best friends for life
Unfortunately the ultimate dream of a Stormi, Chi, True photo shoot has yet to come to pass, although Kim told Entertainment Tonight in June that it's in the works.
The three little girls are gonna grow up together. Chi and Stormi are just two weeks apart and then True is just a few months behind so that's really exciting. We're so excited. Me and Kylie and Khloe are planning one of those kids' photo shoots, just like a silly shot that we can have all the girls, 'cause Stormi and Chicago have so many pictures together. So, we can't wait for True to join the crew.
Apparently the three moms are hiding the photo shoot from us, because on July 1 Khloé tweeted that it had already happened. We just haven't seen the pictures from it yet.
To be fair, Kylie went through a stage when she was trying to keep Stormi off the internet, reportedly to protect her little girl from negative comments. Lately she has been posting more pictures of her, so hopefully we'll get a gander at the cousin photo shoot soon.
For now please just enjoy this short video of 7-month-old Stormi dancing because it's wonderful.
It's pretty sweet to see the KarJenner babies getting the chance to grow up together and develop their own relationship with each other. But if we could go ahead and get that cousin photo shoot on the internet, that would be great. As long as no one says anything bad and ruins it for everyone else, okay? Okay.