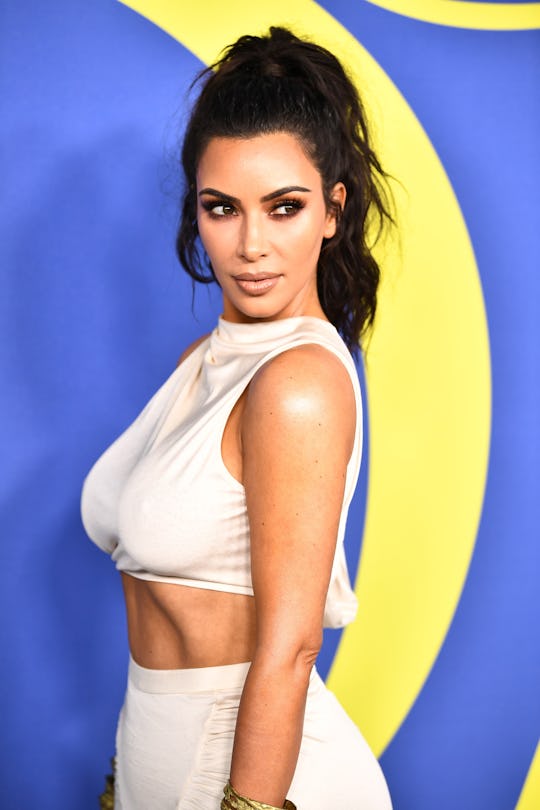 Dimitrios Kambouris/Getty Images Entertainment/Getty Images
Kim Kardashian's Latest Picture Of Saint Is All About Alone Time With Her "Boo"
North West just celebrated her fifth birthday, and the party looked incredible. As the oldest child of Kim Kardashian West and Kanye West it wasn't much of a surprise, of course. She celebrated with her cousins and her friends, and her mom wrote a pretty beautiful message to her daughter to celebrate her birthday. But, as a mom of three, she wasn't going to forget about her other kids, especially her little boy who might be feeling left out. Kim Kardashian's latest picture of Saint is a sweet nod to the fact that she's trying to make sure all of her kids feel included.
The KKW mogul spent much of Thursday and Friday celebrating her daughter turning five with a shopping trip, a unicorn-themed birthday party, and a little ice cream in New York City. And of course, the requisite birthday message on Instagram on Friday that read in part; My baby girl turns 5 today. Never did I think back then that I would have my best friend for life! I'm so honored to be your mom Northie! You have brought more joy into my world than I ever could have imagined. I can't believe your so big now! The luckiest girl in the world to be best friends with your cousins and have the most magical parties together! I love you so much birthday girl!"
But she was still thinking about her sweet little 2-year-old boy, who apparently wasn't in New York for his sister's birthday bonanza. Because she shared a picture of North in an amazing hot pink track suit, waving extravagantly to her fans, with the caption, "Now that you're 5, don't you think it's the mature thing to do to be nice to your brother!?!"
Poor little Saint; Kim has been open about her daughter's longstanding (and apparently one-sided) feud with her little brother, beginning when he was still breastfeeding and she used to try to pull him away from their mother. As she said during an episode of Kocktails With Khloe, according to Metro, North came up with a pretty brilliant solution:
I was feeding him on this side, like this way, and she was so jealous that she took her little milk box and put it in my bra, the side with the straw sticking out, and she wanted to drink while he was drinking.
The fighting didn't stop there, unfortunately. Kim admitted during an interview with Live! With Kelly & Ryan that she was hoping this was a "phase," but it didn't seem to be, as reported by Cosmopolitan:
We're having a tea party, Mom. No boys allowed. Dad can't come too, then. No boys. She'll slam the door on her brother's face, and he'll just start crying.
And he's so sweet! I mean, look at his little face here as he looks at his mom with pure adoration.
No wonder she felt like she needed to share a picture of just herself and Saint. To prove that sometimes, he gets to be number one too. Even if his big sister doesn't like it so much.
Kim captioned the pic "Missing my boo" on Saturday.
So yes, let's admit that Kim Kardashian is clearly faking sleep (rather poorly) with full makeup and hair in this picture. I'm sure her critics will see that and only that.
But take a second to look at Saint's face. Drinking his bottle, curled up to his mom, he's clearly in total heaven here. Say what you want about Kim Kardashian, but I think the girl has this parenting three kids thing on lock.