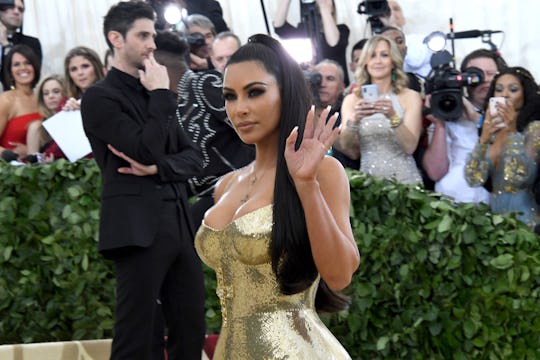 Noam Galai/Getty Images Entertainment/Getty Images
Kim Kardashian's Mother's Day Message Is All About The Love (& Bribes)
It can be easy to forget that celebrities are still just real people at the end of the day. Yes, they might have glam squads and trainers and nannies and chefs to help out, but that doesn't make them any less human. And that's something that Kim Kardashian's Mother's Day message definitely made clear. Yes, even though Kardashian had already shared a super sweet message to her own mother on Sunday, she also took the time to tweet out an adorable photo of herself with her three children, and write a refreshingly honest caption.
Alongside a photo of Kardashian holding her children, 4-year-old North, 2-year-old Saint, and 4-month-old Chicago, the reality star wrote an adorable caption explaining just how difficult it was to get all her kids to cooperate for the photo. "You don't even understand how many lollipop bribes this pic cost me," Kardashian began, continuing, "but it was so worth. Happy Mother's Day to all the moms out there. I'm the luckiest mom in the world to have these three babies in my life!"
Obviously, Kardashian is a busy working mom, but her Mother's Day tweet was seriously on point. And come on, how many moms can relate to having to somehow convince your kid to sit still and take a picture?
Seriously, especially considering how many kids Kardashian has, it's totally understandable that she would have a difficult time trying to get them to all cooperate for a photo. And there's not a mother out there who is above bribery, at the end of the day. So even though some might say that Kardashian isn't really very relatable, that just isn't true. In addition to letting the world see how loving of a mother Kardashian herself is, the beauty mogul also shared a pretty sweet message for her own mother, Kris Jenner.
Obviously, Jenner is an incredible mother herself, with six children of her own, and a total of nine grandchildren, so a Mother's Day message was definitely due for the matriarch. And Kardashian's sweet note to her mother was completely worthy of the powerhouse that is Kris Jenner. "Happy Mother's Day to the best mom in the entire world!" Kardashian's tweet began. "You've taught us all how to live life to the fullest and work hard for what you want. You've always taught us that family above everything! Thank you for being the best grandma to my kids! I love you."
Yes, Kardashian is definitely owning the Mother's Day game this year, and it honestly isn't even fair. A few days before the actual celebrations, Kardashian wrote on her app about what she was most looking forward to on her first Mother's Day being a mom of three. According to People, Kardashian wrote:
Having kids has changed my soul! You learn so much about yourself from being a parent and you care more about the world you are raising your kids in. My parenting style is very loving. The most rewarding part about being a mom is when my kids tell me they love me.
Of course, the 36-year-old admitted that it wasn't always sunshine and daisies. As a new mom of three, she understands that sometimes, it can all start to be a bit much. "When they all need you at the same time and are crying, it can be overwhelming," she said, per People. Clearly, the wife and mother and businesswoman knows a thing or two about multitasking, and all of what she's said about Mother's Day this year make that abundantly clear. At the end of the day, Kardashian might have money and fame, but she's just another mother, doing her best to love her children.