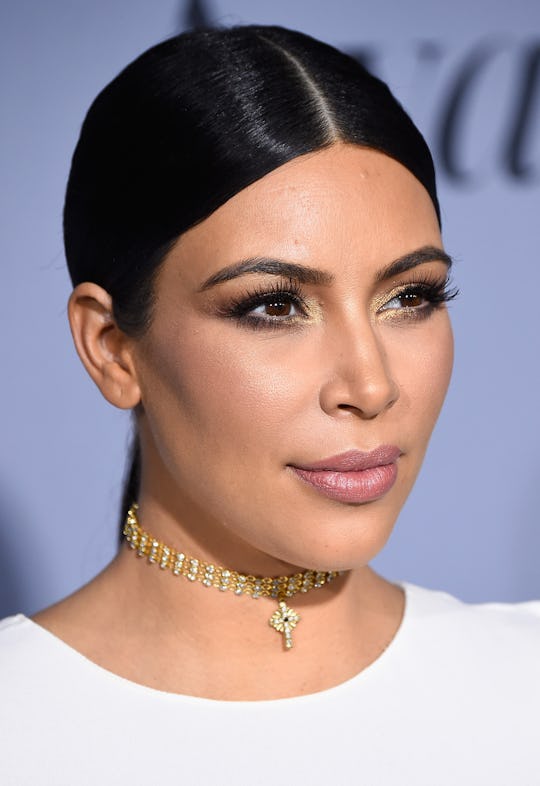 Frazer Harrison/Getty Images
Kim Kardashian's Open Letter On International Women's Day Shuts Down The Body Shamers
I'll admit it; I used to judge Kim Kardashian just a little. Not overtly—it was more of a benign judgment. An eye roll here, a snort there. A mutter of 'Is she kidding?' thrown in for good measure. It was easy pickins for a sarcastic girl like me. And I'm certainly not the only one. When she released a nude selfie on Instagram this week, she faced a steady stream of criticism, including the claim that she's a bad role model for young women. Well, she's had enough. In response, Kim Kardashian released an open letter on International Women's Day responding to the body shaming. In it, she showed her fans and critics alike what being a strong woman looks like in the world today and that judgment, benign or otherwise, has no place in her universe.
According to Cosmopolitan.com, Kardashian wrote: "I never understand why people get so bothered by what other people choose to do with their lives. I don't do drugs, I hardly drink, I've never committed a crime—and yet I'm a bad role model for being proud of my body?"
She continued, "I am empowered by my sexuality. I am empowered by feeling comfortable in my skin. I am empowered by showing the world my flaws and not being afraid of what anyone is going to say about me. And I hope that through this platform I have been given, I can encourage the same empowerment for girls and women all over the world."
I read Kim's letter, and felt foolish. My judgment no longer felt benign, it felt hostile and oh so wrong, especially for a feminist. (Sidenote: can we just talk about how eloquent she was? Haters beware, she's got skills!)
In the letter Kardashian was pretty clearly calling out critics like Bette Midler and teen actress Chloe Moretz as well, who took to Twitter to voice their concerns over the impact the blatantly sexy selfies might have on young women.
"It's 2016," Kardashian wrote in her letter. "The body-shaming and slut-shaming—it's like, enough is enough. I will not live my life dictated by the issues you have with my sexuality. You be you and let me be me." And Twitter went, Hell yes!
This idea that one woman gets to tell another woman how to be the "right" kind of woman is tired, and Kardashian called it out as such. As she pointed out, one of the best parts of being a woman is fully inhabiting your own remarkable body and feeling empowered by its sexuality. A huge gift women can give each other is to support that empowerment.
Kardashian's message is timely. Feminism had a rough start to 2016. Iconic feminist Gloria Steinem insinuated that young women would vote for Bernie Sanders instead of former Secretary of State Hillary Clinton because they'd follow the boys' lead. There was also the moment when the first ever female Secretary of State and lifelong feminist Madeline Albright attended a Clinton campaign event in New Hampshire and saw that as the right moment to quote herself, "There's a special place in hell for women who don't help each other."
Albright's comment backfired in that context — she raised the idea that Clinton expects women to vote for her just because she's female — but it's actually the sentiment Kardashian got across in her post, except Kardashian took a more positive approach. Why not let other women be themselves and celebrate their choices? After all, who the hell is on the same page all the time?
It's a nice reminder not to waste time judging others when there are a million cool things we could be doing instead. Like hanging with Amy Schumer for an epic squad selfie. Surrounded by kick-ass feminists.
So Happy International Women's Day to all you moms and sisters and friends and daughters and grandmas and women of no title who simply are. To writers and advocates, to Netflix binge-watchers, to happy wanderers. To women who run early in the mornings and the ones who sleep in past noon. To the wearers of big straw hats, the Botox-getters, the wig wearers. To the ones who are growing old gracefully and the ones fighting it tooth and nail. To the buttoned-up beauties and the nude selfie-takers. We are all kicking it every single day.
Thanks for the reminder, Kim.