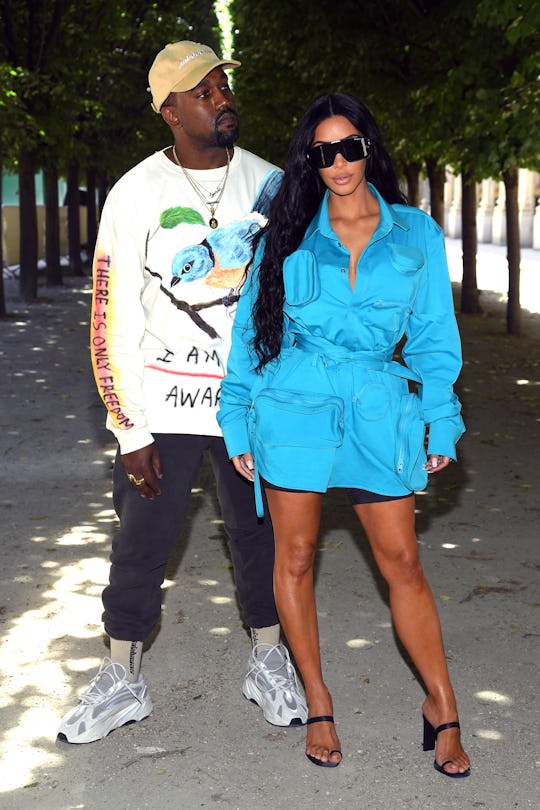 Pascal Le Segretain/Getty Images Entertainment/Getty Images
Chicago & Saint Are The Spitting Images Of Their Parents In Kim Kardashian's New Photo
There is this thing that we do as human beings when a baby is born that totally fascinates me; we instantly need to figure out who they look like. Maybe it's based on some primitive part of our evolved brain, something about identifying the parent that needs to take care of that child or whatever. But it's what we do, and especially what we do when we see celebrity babies. When Kim Kardashian shared a photo of baby Chicago and Saint on Tuesday, all anyone wanted to do was figure out which kid looked like which parent. It's how humans like to roll.
As we all remember, the KKW mogul and her rapper husband, Kanye West, welcomed baby girl Chicago on Jan. 31 via surrogate. She is their third child, joining 2-year-old brother Saint and 5-year-old sister North. Since Chicago's birth, Kardashian has been sporadically posting pictures of the 6-month-old baby on Instagram, sometimes with her siblings and sometimes without.
But it seems that her two youngest kids are actually pretty much "inseparable," according to their mom's latest Instagram post. In the photo, Saint and Chicago are sitting side-by-side looking at something in the distance, and fans are having a field day deciding which kid looks the most like which parent.
First off, I'm just going to say that Kim Kardashian and Kanye West make utterly gorgeous little people. I mean, Chicago West's eyelashes alone are enough to have this lady right here swooning. I'm certainly not the only person who thinks these kids are adorable; plenty of people took to Kardashian's Instagram to do a little online swooning as well.
One fan commented, "her kids r so stinking cute not even fair man haha."
Another wrote, "Your children are GORGEOUS!"
"Chi is pretty. Saint is handsome. Nice looking babies," one more chimed in.
Not only were fans losing it over how cute these two are, they also couldn't stop seeing family similarities. Especially between little Chi (pronounced "Shy" as her mom prefers) and Kardashian.
Even Kardashian herself has happily pointed out that she thinks Chicago looks like her. In a video she posted to her personal website on Monday, Cosmopolitan reported that the KUWTK star said she was worried about feeling connected to her baby after a surrogate was the one to carry her, but that was not the case at all:
She's literally my twin, it's crazy. I think because I was so nervous that having a surrogate I would lose that connection. I swear I was like God is going to be like here is your twin so you feel so connected. Yeah, it's crazy how it works. She's so like teeny and pretty.
Chicago looks so much like her mom that fans were pretty much in agreement about the family resemblance, but when it came to Saint they were divided. Some swore he looked like Kanye West, others thought he was more like Kim, while some simply said that he and his baby sister looked like twins.
So here's my two cents, for what it's worth; I think Saint and Chi look a whole lot like their mom, while North is more like her dad. But I'm pretty terrible at this game, so don't take my word for anything.
I still don't know why people love to play the genetic match game so much when they see a baby, but it is kind of fun. And I think probably pretty fun for Kim Kardashian as well. She can scroll through the comments and, seemingly for once, just enjoy all the nice things people are saying about her kids. That they're cute, that they look like this parent or that parent, and nothing more controversial than that.