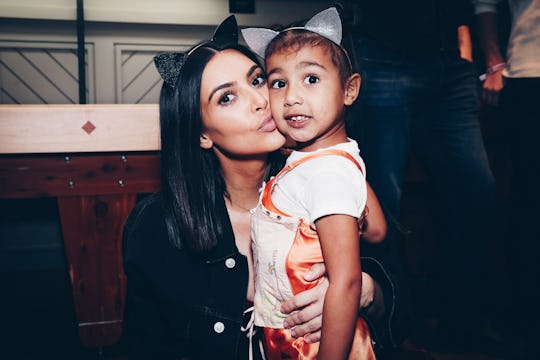 Handout/Getty Images Entertainment/Getty Images
Kim Kardashian's Photo Of North West At March For Our Lives Is Inspiring
Many celebrities were in attendance at the March For Our Lives protests across the country on Saturday, including Kim Kardashian and her husband, Kanye West. And, like many families who took part in the protests against gun violence in America, Kardashian and West decided to include their young child in the unforgettable experience. Yep, North West took to the streets of Washington, D.C., alongside her famous parents to campaign for stricter gun laws. But while that fact is moving in itself, Kim Kardashian's message about taking North West to March For Our Lives is even more inspiring. Prepare to have your hearts touched, people.
As many of Kardashian's loyal supporters already know, she has a personal connection to gun violence. Kardashian was robbed at gunpoint during a trip to Paris in October 2016, and the terrifying experience motivated her to become an outspoken gun-safety advocate. But even before the harrowing incident, Kardashian wasn't shy about her desire to see stricter gun laws in the United States. Kardashian, along with some of her family members, attended a luncheon with gun violence survivors in August 2016 to discuss gun safety measures. "Having lunch w gun violence survivors @Everytown & @Momsdemand #SandyHook #SanBernardino," she said on Snapchat while at the event, according to People.
And when you consider how passionate Kardashian is about gun safety, it's no surprise she decided to bring North along to the March For Our Lives protest in Washington, D.C. Although Kardashian didn't post much on social media during the march (girl was busy expressing her first amendment right), she did take to Instagram on Sunday to share a stunning black and white photo of North sitting on her dad's shoulders at the march.
As if the snap wasn't touching enough (it *needs* to be framed), Kardashian decided to pen a message about the experience that will likely leave many parents teary-eyed.
Kardashian wrote, according to Instagram:
What an amazing day yesterday to take my daughter to Washington DC to see our future leaders speak. Having my daughter march along-side her grandfather and parents was a day I hope she remembers forever. I know that the younger generation will vote to change these gun laws that so desperately need to be changed. Hearing these stories yesterday and meeting so many families affected by gun violence was heart breaking and I hope when it comes time to vote we all step up and vote to protect our children.
Even if you're not a fan of Kardashian and her long-running show, Keeping Up With The Kardashians, it's difficult not to feel inspired by her post. For starters, the message speaks to one of the most important takeaways from the protests, which is that younger generations have the power to enact meaningful change.
Additionally, Kardashian touched on the amazing trend of families campaigning for their safety and well-being together. It's incredibly powerful that North got to share this life-changing experience alongside her parents and grandfather, and it's a safe bet many families out there can relate to Kardashian's gratitude. Celebrity or not, Kardashian is just another parent who wants to teach her child a valuable lesson through meaningful action, and protect her child's life by advocating for legislative change.
Following the post, some fans took to the comments section to praise Kardashian for including North in the march.
"Your daughter is going to be a powerful woman who stands for herself and others when is right," one supporter wrote. "It was amazing of you guys to made her a part of that amazing movement."
Someone else added:
Wow! In a world where celebrities have their children at upscale events that don't make a difference in to those of us on the lower economic scale, here comes North West! Beauty and brains is what this child has thanks to her awesome parents. I wish I could have been there to see this day but Nori went for all of us.
Of course, Kardashian isn't the only celebrity out there who brought their child to March For Our Lives. But what's especially inspiring about Kardashian's post is that it drives home the importance of showing kids that they too have a voice in this discussion, a truth that can't afford to be lost in this ongoing debate about gun violence.
Check out Romper's new video series, Bearing The Motherload, where disagreeing parents from different sides of an issue sit down with a mediator and talk about how to support (and not judge) each other's parenting perspectives. New episodes air Mondays on Facebook.