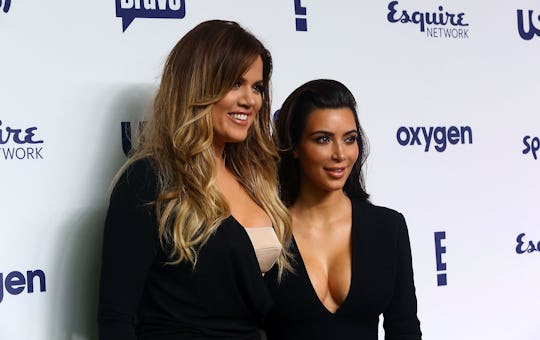 Astrid Stawiarz/Getty Images Entertainment/Getty Images
Kim Kardashian's Reaction To Khloe's Baby Is Pretty Perfect
You guys, it finally happened. That tiny explosion you heard was Khloé Kardashian finally confirming her pregnancy with Tristan Thompson. While the entire world seems over the moon for the couple, what does big sister Kim think? Kim Kardashian's reaction to Khloe Kardashian's baby is pretty much what you'd expect — full of 2017-style love. Kim took to Instagram to "like" her little sister's adorable pregnancy announcement and honestly, it's perfect. (And not just because the red heart symbolizes all that's good and pure in the world.)
The Kardashian-Jenner family is known for their perfect social media posts and Instagram shots. Honestly, some of us have made a career digging through their Instagram captions and snaps to find some kind of baby clue. So to see that Khloé used the social media platform to share her big news and that her family all responded is pretty sweet. I mean, think about it. The minute I post a picture of my daughter on Facebook, a few things happen: my husband loves it, my dad shares it, and my grandmother-in-law comments on it with approximately 800 emojis. Turns out, the Kardashians are no different and honestly, I'm obsessed with Kim's subtle reaction to her sister's pregnancy.
Since Khloé's pregnancy was leaked, Kim has been pretty tight-lipped on the entire thing. Back in November, she spent a few hilarious moments with Ellen Degeneres and shared big personal baby news (she revealed her own expected baby was a girl), but still refused to comment on her sisters' alleged pregnancies. According to Us Weekly, Kim told Ellen that in her family, there's a group chat every time there's a rumor and everyone is basically threatened with death if they "speak" for each other. So while Kim refused to answer any of Ellen's pressing questions, she basically insinuated that there was something to be said and kept her big sister promise.
Which is just another reason why her subtle like is so sweet on Instagram. She hasn't written a huge post talking about why Khloé deserves to be a mother, how long she's waited, or what this means for her growing family. It's as if she's stepped back and allowed Khloé to control and harness her announcement herself. By liking it, she's publicly showing her support without taking away the spotlight and making another promise to Khloé — I'm always here.
OK, maybe I'm going a little too deep with this. But it's the truth. A love rather than a like on Facebook means the world to me. When my own sister loves a status I've written about my daughter, her niece, it says to me that she's paying attention, that she's involved in our lives, and that she just wants us to know she loves us. That's how I take Kim's reaction. It's not like she didn't know it was coming, but whether Khloé shot her a text and said, "Hey, go like my Instagram post" or Kim just happened to see it, the sentiment is still there.
Also, you guys, it's 2017. While subtle isn't exactly the word I would use to describe this year, I do love the simplicity of technology sometimes. A simple heart instead of a response recorded by a reporter and put on E! News? I can dig it. It really pushes the idea that Celebrities! They're Just Like Us when you can get a tiny glimpse behind the social media curtain to see how they really interact. It's like when you see a celeb comment on another celeb's food post with, "Hey! You'll have to give me that recipe next week!" It makes them feel even more real, more relatable, and like you're more connected to them than you thought would ever be possible.
I may not have a mention in Calabasas, but hey, I can like my sister's Instagram post, too.
Check out Romper's new video series, Romper's Doula Diaries:
Watch full episodes of Romper's Doula Diaries on Facebook Watch.