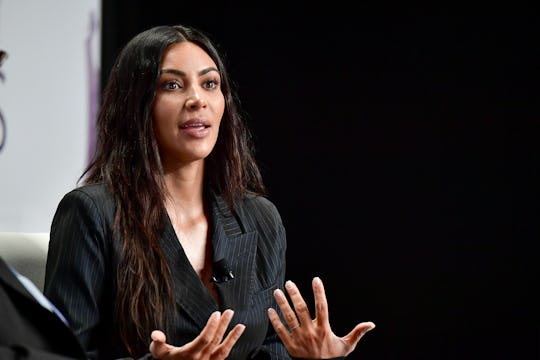 Dia Dipasupil/Getty Images Entertainment/Getty Images
Kim Kardashian's Surrogate Is Reportedly Pregnant, &, Wait, There's More
Months after announcing her family's plans to add another baby to their brood, there's a huge update on Kim Kardashian's surrogate: she's pregnant. According to Us Weekly, the 36-year old reality star and husband Kanye West have revealed who they've chosen to carry their third child: a San Diego mom in her late 20s. And not only is she pregnant, but she is reportedly three months along — marking a due date sometime in January 2018.
As Us Weekly reported, a source said that this woman has "served as a surrogate before, even appearing in a promotional video about the process with her own family." Kardashian and West were reportedly referred to her by an agency.
Hiring a surrogate is complex and would-be parents have to feel comfortable with the person. And it appears that the Keeping Up With the Kardashians star and the 40-year-old rapper's choice fits what they were looking for.
According to TMZ, the power couple have stipulations for her to follow, which are fairly similar to what all expectant moms would do. For starters, their surrogate is reportedly required to refrain from smoking, drinking, and drugs during the pregnancy. Additionally, she agreed to "restrict sexual activities in the weeks leading up to the pregnancy" and for three more weeks following embryo implantation, according to TMZ.
TMZ also reported that their surrogate is not allowed to go in hot tubs or saunas, handle or change cat litter, apply hair dye, drink more than one caffeinated beverage per day, or eat raw fish.
Kardashian and West — who are already parents to their 4-year-old daughter North and 19-month-old son Saint — have reportedly agreed to pay their surrogate $45,000 in 10 monthly installments of $4,500, according to the TMZ report. And if she's pregnant with multiples, the famous parents will reportedly pay her an additional $5,000 per child. TMZ also reported that they already paid a $68,850 deposit to the agency.
Kardashian has been very open about her fertility struggles and pregnancy complications with her first two children. In an interview with C Magazine, she explained that she suffered from placenta accreta, a serious pregnancy condition that happens "when the placenta grows so deeply into the uterus that it cannot be separated after delivery," according to Parents.
Because the condition can lead to infertility and can even be life-threatening to the mother, Kardashian and West explored alternative methods to grow her family.
Now that their surrogate is reportedly three months pregnant, the expectant parents — and the rest of us — certainly have a lot to look forward to in the coming months.