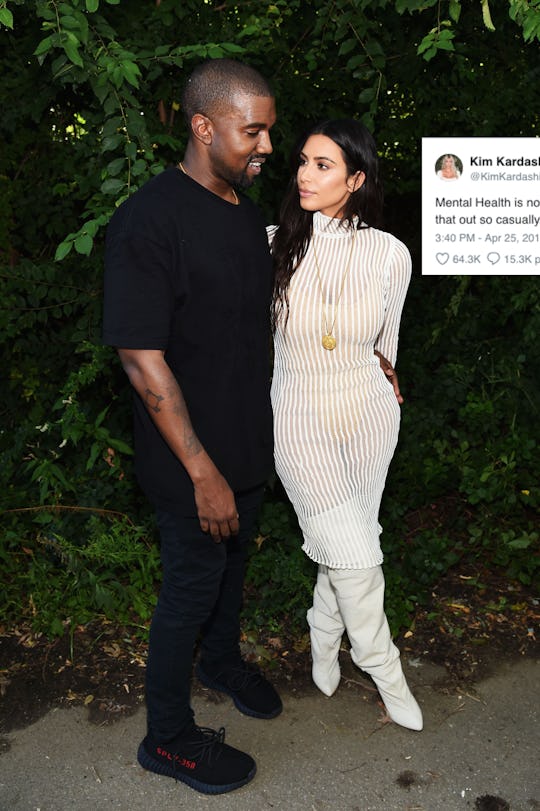 Jamie McCarthy/Getty Images Entertainment/Getty Images
Kim Kardashian's Tweet About Criticisms Of Kanye's Mental Health Is Spot On
Kim Kardashian West has several solid personality traits in my opinion, but one wins out over everything else: loyalty. The KKW business mogul has made it abundantly clear over the years that she is loyal to her loved ones to a fault. She's not above coming down on someone on Twitter for going after one of her sisters, or her mom, or even on a few occasions, her oldest daughter. It's entertaining as all get out, but when Kim Kardashian tweeted about husband Kanye West's mental health, she made a truly excellent point. Not just by defending her husband against an especially harsh round of negative media coverage, but by noting that crying mental illness just because you might not like something someone has to say is seriously never all right.
Kanye West has reactivated his Twitter feed after several months of silence, and not everyone out there loves having him back. Especially since the Grammy-award winning rapper and Yeezy designer went on something of a Twitter rant apparently supporting President Donald Trump on Wednesday. As West wrote in one tweet; "You don't have to agree with trump but the mob can't make me not love him. We are both dragon energy. He is my brother. I love everyone. I don't agree with everything anyone does. That's what makes us individuals. And we have the right to independent thought."
After West shared his tweet, several news outlets started to report that West was exhibiting signs of a mental breakdown based on reports by sources who say they're close to the performer, or simply based on the fact that West would tweet his support for Trump.
Kim Kardashian West is simply not having it.
Kim tweeted that mental health is "no joke and the media needs to stop spitting that out so casually. Bottom line." She's 100 percent right.
First of all, disagreeing with someone's point of view does not ever, in any way, give you the right to point a finger and make assumptions about their mental health. Even when it's wrapped up in that ever-convenient package of faux concern, with headlines like "New Concerns For Kanye West's Mental Health After Outburst At Studio" and such.
I know it's an incredibly divisive time for politics right now. And a lot of people have pointed out that President Trump's politics are going to have a negative impact on many marginalized groups. But you simply can't call someone out for having a "mental illness" because they support a politician you don't like. You can call them out, and point out why their views are problematic, but mental illness should play no role. There are plenty of Trump supporters in the U.S. who are not mentally ill — and calling them that would be ignoring the systemic racism and xenophobia that actually got Trump elected.
Kanye West has reportedly had struggles with mental health in the past, which could make this an especially sensitive subject for the couple. He was hospitalized at Los Angeles's Ronald Reagan UCLA Medical Center in November 2016 for "severe exhaustion and sleep deprivation," according to Billboard. It must have been tough on both him and his wife, who had two small children at home at the time (son Saint was born in December 2015 and daughter North was just three years old at the time). And let's not forget that Kim had just survived a terrifying robbery in Paris. It was obviously a harrowing time for the couple but they appear to have made it through as a family.
Whether or not Kanye is privately struggling with mental health is obviously no one's business. And it's also sort of not the point. The point is that mental health is serious business, and nobody should be trotting out assumptions and plastering them all over social media.
That being said, there's absolutely nothing wrong with disagreeing with Kanye's posts about Trump. When you share your personal opinion publicly you open yourself up for debate, and there are so many issues that can and should be debated regarding President Trump — you would be doing yourself a disservice not to engage in a little civil discourse. Trump has a history of xenophobic, racist, and sexist comments that frankly should be questioned and hotly shot down at every turn. Kanye's support of Trump can be challenged in a way that's thoughtful, but it's his opinion that should be challenged. Not his mental health.