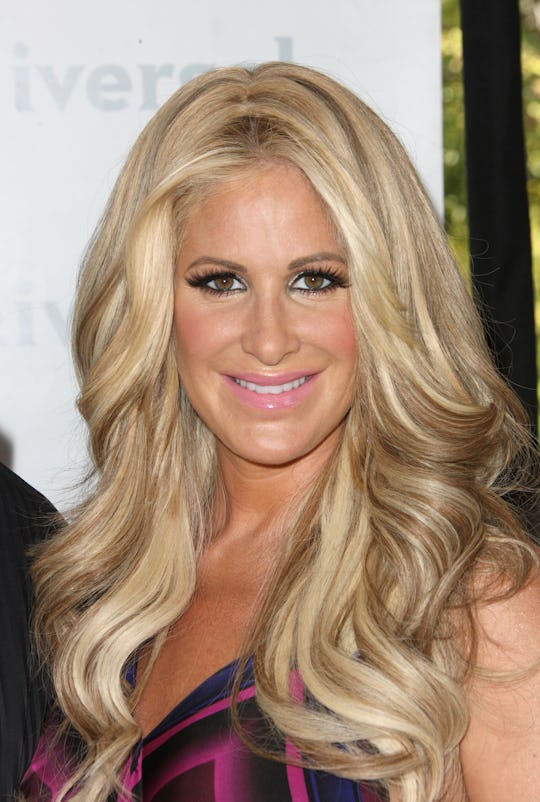 Frederick M. Brown/Getty Images Entertainment/Getty Images
Kim Zolciak-Biermann's Son Is Healing "Super Fast"
It really doesn't matter who you are — when one of your kids is hurt, the world ends. Everything stops until your little one is on the mend. Thankfully for Kim Zolciak-Biermann, her son Kash is healing "super fast" after a harrowing dog bite incident over the weekend, one which she chronicled on social media, to the relief of worried fans.
The Don't Be Tardy and Real Housewives of Atlanta star and mother of six kids shared the news of 4-year-old Kash's recovery on Snapchat Thursday in a video chat she captioned "Update on my baby." The reality star wrote,
Just wanted to give you guys a little update on Kash. He's healing super fast, much quicker than we all anticipated. So, thank you guys for all your prayers, and I'll keep you updated for sure!
Zolciak-Biermann shared the news that Kash had been bitten by a dog on Sunday. He was brought to the hospital where he was taken in for emergency surgery, as the former Real Housewives star reported on Instagram:
I don't know where to start. The last 14 hrs of our lives has been a living nightmare. My sweet @kashbiermann was bit by a dog and had very traumatic injuries. I've never prayed so hard, or been so scared in my life. My husband, our daughters, Kj, Tracey, his nanny, Michael Beck, and everyone close to us all pulled together and held each other up.
Though the family has a dog of its own, reps for Zolciak-Biermann did not immediately respond to Romper's inquiry regarding whether the dog that bit Kash was the family pet or another animal.
Zolciak-Biermann added at the time that "Kash was in the operating room for a couple hours" and that the family was "praying for a quick speedy recovery."
Zolciak-Biermann is married to former NFL player Kroy Biermann. The couple, who met on the set of Dancing With The Stars in 2010, are also parents to 3-year-old twins Kaia and Kane, 5-year-old son KJ, and Zolciak-Biermann's daughters Brielle (20) and Ariana (15) from a previous marriage.
During their traumatic time at the hospital by their little boy's side, Zolciak-Biermann made it clear that she was grateful to be able to lean on her husband for support. She shared a picture of Biermann holding his son's hand as he was being wheeled through the hospital in a gurney and captioned the photo:
I don't know what I would do without you @kroybiermann ❤️ Kash just got out of surgery in this pic and he was heading to his room. He woke up looking for his daddy. We left our house in such a hurry Kroy had no shoes on and I literally was half naked w/ deep conditioner in my hair...Those were the least of our worries.
After such a scary incident, the Biermann clan are likely ready to go home and heal together. And both fans and parents everywhere can be grateful for that.