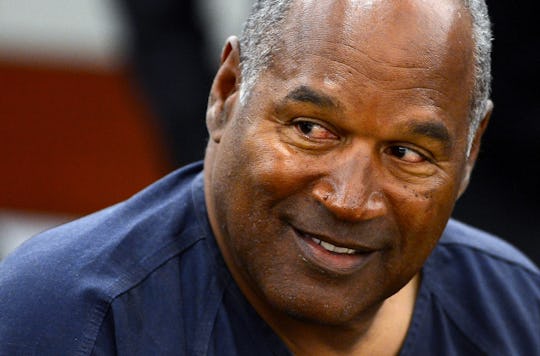 Ethan Miller/Getty Images News/Getty Images
Knife Found At OJ Simpson's Property Isn't Connected To Murders, LAPD Finds
It has been a very eventful year for O.J. Simpson and the Simpson trial. After the discovery of a knife buried under Simpson's old home earlier in 2016, many people were talking about the trials again. On Friday, the Los Angeles police confirmed that the knife found at Simpson's old home is not connected to the murders of Simpson's ex-wife, Nicole Brown Simpson, and Ronald Goldman, her friend.
The knife was taken into police custody on Feb. 10, after a retired police officer with the LAPD, George Maycott, had held onto it in his toolbox for 15 years without turning it in. Maycott received the item from a construction worker who was a part of the crew that was tearing down Simpson's home — the one he lived in during the time of the crime — in 1998. The officer had believed that the case had been closed and kept it among his personal possessions.
On March 4, Los Angeles police Capt. Andrew Neiman was unsure of why Maycott held on to the knife for so long after reportedly trying to turn it in to the LAPD . "I don't know what the circumstances are, why that didn't happen or if thats entirely accurate or if this whole story is possibly bogus from the get-go," Neiman said.
After being turned over into police custody, the LAPD put the knife under tests for blood and fingerprints as well as DNA tests. In spite of this, police had remained highly skeptical that the knife had anything to do with the murders, according to the Los Angeles Times.
During the trials, the county coroner had testified and believed that the knife that had killed Goldman and Brown-Simpson was a six-and-a-half inch blade at least. The knife found on the property and handed over to the police was five inches.
Simpson was tried on murder charges in 1995 but was acquitted of all charges against him. If the knife had been linked to Simpson or the crimes, Simpson would not have been able to be charged for the crimes due to double-jeopardy.
Double-jeopardy is a law protected under the Fifth Amendment of the Constitution that states a person can not be brought forth on the same charges on more than one occasion. "It is my understanding that double-jeopardy is in place here," Neiman said.
Simpson is currently in prison after being convicted of armed robbery and kidnapping in 2008 for his involvement in the robbery of two sports memorabilia dealers. He was sentenced to 33 years in prison and will be eligible for parole in 2017. Simpson's representatives have no responded to our requests for comments.