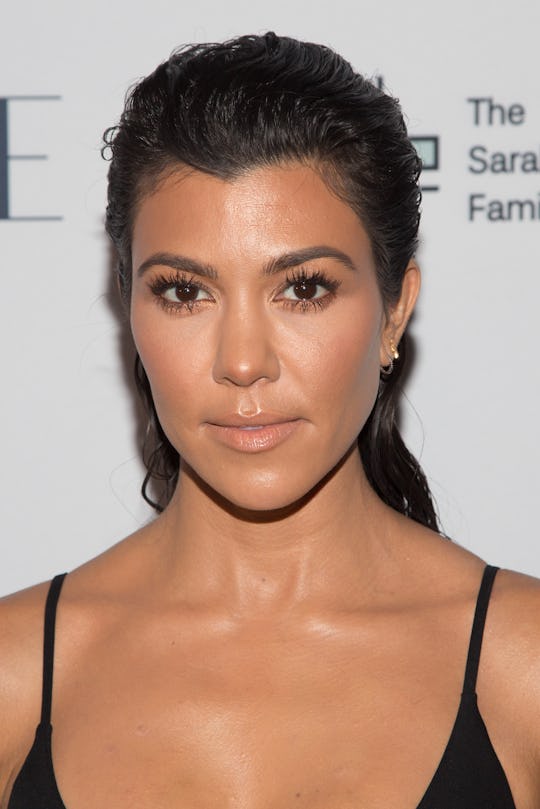 Gabriel Olsen/Getty Images Entertainment/Getty Images
The Internet Is Freaking Out Over Kourtney Kardashian's Bikini Picture Taken By Her 8-Year-Old Son
It's hard to believe that Kourtney Kardashian's oldest son Mason Disick is so grown up. Fans of Keeping Up With The Kardashians all remember when Mason was born, the first of the growing brood of KarJenner grand babies. The adored little boy who was doted on not just by his mom, but by his aunts as well. He was filmed and photographed so often, I'm sure it must have become second nature to him. And now it seems he's returning the favor. Kourtney Kardashian shared a bikini pic taken by 8-year-old Mason, and for once the internet was supportive of a Kardashian mom in a bikini. Will wonders never cease.
The oldest of Kris Jenner's brood of impossible famous daughters is a mother of three herself; along with 8-year-old Mason she also has 5-year-old daughter Penelope and 3-year-old son Reign with ex-partner, Scott Disick. Lately, Kourtney has been sharing a whole lot of sexy selfies on social media with boyfriend, former French boxer Younes Bendjima. But it seems she has plenty of room in her life for another young man, namely her son Mason. On Wednesday, Kourtney shared a pretty cool picture of herself in a black bikini on the beach on Instagram with the caption "photo by Mason."
It's actually pretty impressive for an 8-year-old to be able to take such a great picture of anything, let alone his mom. But let's face it; Kourtney is a pro at looking spectacular in pictures. While the Kardashian family usually comes under fire for sharing any sort of *sexy* pics if their kids are within 100 yards of them, for once the response has been pretty much all positive. Mostly people agreed that Mason was one heck of a photographer.
Damn can Mason take my pictures now lmao
Photographer in the making
when a child takes better photos than your friends 🤦‍♀️
Wow Mason is a better photographer than me😂😂
Of course, there were other kinds of comments. Some people questioned the fact that Kourtney is supposedly "never" with her kids. I gather they didn't bother taking two seconds to read the caption that one of said kids took the picture. Which seems pretty run of the mill for moms on the internet; everyone is waiting to pounce if you dare to step away from your child for two minutes. Still, for the most part Kourtney was lavished with praise for looking great and having a little boy who is a talented photographer. Which is more than people said when Kourtney's sister Kim Kardashian West shared a topless picture that was apparently posted by her 4-year-old daughter North. The KKW makeup mogul posted a pic of herself in the mirror wearing high-waisted leggings and no top three months ago with the caption; "photo by North."
And the internet was not nearly so sweet and kind to this particular mom of three. As one Instagram user pointed out on Kourtney's own bikini pic, the difference in responses was pretty ridiculous.
But when Kim has her daughter take her picture it's a problem 😂😭 y'all are something else
Still, I suppose it's nice to finally see a little relaxing in the mom-judgment, isn't it? Nice to see that Kourtney Kardashian can enjoy a little beach time with her son and share a picture he took of her without getting mercilessly roasted by internet trolls. Sure, it would have been nice to see Kim Kardashian West get a little break from the mom-shamers, but maybe that will come next. Maybe we're on our way to an elevated place where people are just nice to each other, finally.
Or maybe not. We'll find out soon enough, I guess.