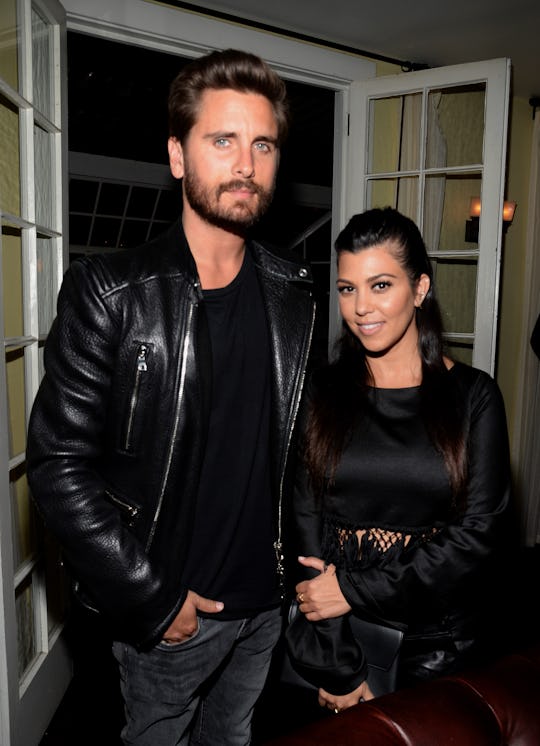 Chris Weeks/Getty Images Entertainment/Getty Images
Kourtney & Scott Back At It With Co-Parenting Holiday
So what's up with Kourtney Kardashian and Scott Disick these days? It's a question Kardashian-watchers have been asking for years. Is the reality star power couple back together? Are they seeing other people? Well, it's tough to say, of course, but there is one thing that seems to remain constant: Kardashian and Disick have made co-parenting a priority, and you have to admire them for that.
The Keeping Up With The Kardashian stars separated in Oct. 2015, after reportedly struggling with Disick's substance abuse issues and party lifestyle. After nine years and three children together, Kardashian came to the decision to end things because, as she said in an on-camera interview:
Scott will be amazing for three months then go out of town and go off the deep end. I don't know if that's a pattern I can continue with.
Since then, Disick has said that he still has feelings for Kardashian, while she has gone on record to say that she will probably never reconcile with him. Regardless of their are they/aren't they relationship status, the couple have continued to make their three children ( 7-year-old Mason, 4-year-old Penelope, and 2-year-old Reign) the focus of their attention. On Friday, Kardashian shared a pic of the two on a family holiday in Hawaii with the caption, "MOM and DAD back at it again with the coparenting skills."
The two parents might struggle to define their own relationship, but they have a history of prioritizing their kids. Whether the family are going for day trips to the zoo, or creating epic family Halloween costumes, they are clearly trying to make things easier for their kids. Kardashian and Disick got together on Nov. 1 to dress up with their kids. Which is basically co-parenting level one million.
So what's the secret to their co-parenting success? In August, Kardashian told You magazine it was all pretty simple:
I find co-parenting really easy. Scott and I communicate all the time. You have to keep discussing what's going on because as the children grow older, the rules need to be renegotiated.
As for Disick; he told People in March that he wasn't really sure why it worked, but he wasn't going to "jinx it."
I don't think we know any other way, to be honest. We never had any negativity between us and we made a very smooth transition into the way we live, and luckily, thank God, we're able to see one another and still be with our children and, knock on wood, that we have that. Thank God we have that and everyone is somewhat happy and it seems to work. It's not broke, so don't fix it.
Whatever their secret might be, it's worth sharing. Because co-parenting can be a lifelong, tough haul... so why not try to enjoy the ride?