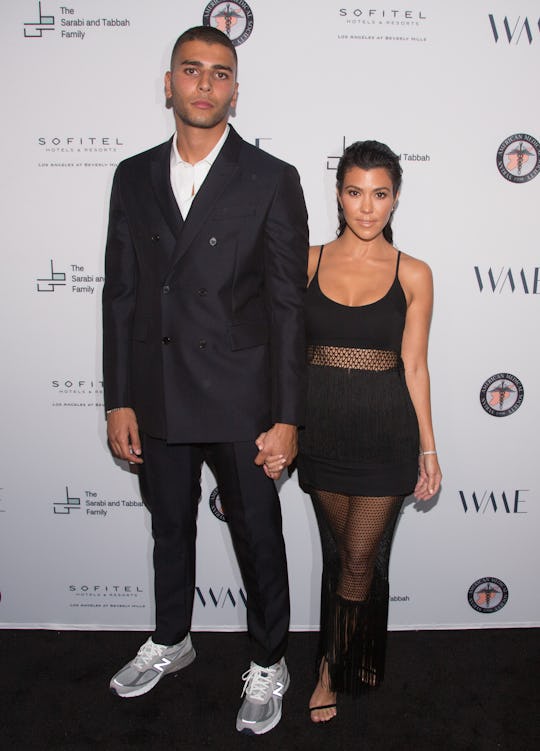 Gabriel Olsen/Getty Images Entertainment/Getty Images
Kourtney Kardashian & Younes Bendjima Reportedly Broke Up After Nearly 2 Years Together
It sounds like Kourtney Kardashian is having a bit of a moment right now, and not all of the news is great. Fans of Keeping Up With The Kardashians (as well as anyone with access to Twitter) know there is tension between her and her sisters, which is presumably difficult enough. And now it looks like her love life might be in trouble. According to TMZ, Kourtney and Younes Bendjima reportedly broke up after less than two years of dating, and the timing is pretty difficult.
According to a recent report from TMZ, Kourtney Kardashian allegedly ended her relationship with Bendjima just recently. The news outlet also shared pictures of the model, who works for Givenchy and Balmain, purporting to show him spending time with another woman in Mexico. Rumors of a possible break up began after Younes posted a pretty unkind comment on Kardashian's Instagram feed in July, but before that things seemed to be going along pretty well for the couple.
Bendjima and Kardashian first began dating back in December 2016, according to People, when she was in Paris for fashion week. They met at a nightclub, right around the time that Kardashian's younger sister Kim was held at gun point in her hotel room and robbed, as People reported.
Romper's request for comment from Kardashian's rep was not immediately returned.
Prior to dating Benjima, Kardashian had a tumultuous on again/off again relationship with ex Scott Disick. The couple began dating in 2007, right around the time that Keeping Up With The Kardashians began filming, and would eventually go on to welcome three kids. Their oldest son Mason is 9, their daughter Penelope is 5, and youngest son Reign is just 3 years old. After years of reportedly struggling with Disick's substance abuse issues, the couple ended their relationship in 2105, according to Redbook. Kardashian had a few rumored relationships in the aftermath of her break-up with Scott (including Justin Bieber, according to Entertainment Tonight), but the mom of three didn't seem to get serious about anyone until she met French model Younes Benjima.
While ELLE reported that the pair took Kardashian's three kids on a trip to Italy together at the beginning of July, which seemed to be an indication that things were going well between the couple, there were a few hints of an apparent strain in the relationship. First, the Daily Mail reported in the spring that Benjima had allegedly been out to dinner with another woman, but he fired back on Instagram Stories, according to Cosmopolitan, by saying:
Daily Mail aka Daily Bullsh*t. Where are the 6 other mens I was with? What you guys trynna do? Nice cut tho you piece of shit.
Next came the infamous Instagram insult, when Kardashian posted a picture of herself from behind in a bikini in July. In a since-deleted comment, TMZ reported tBenjima commented on the photo "that's what you need to show to get likes?"
And finally, the most damning evidence of trouble between the couple of all; Hollywood Life reported that they have recently unfollowed each other on Instagram. Which is so often the death knell to celebrity relationships.
Kardashian has enough trouble right now without trying to deal with a messy break up, of course. She, Kim, and Khloé have been engaging in a pretty public Twitter spat over a fight that was filmed on KUWTK last year (although to be fair, these marketing geniuses could be staging the fight to get more people to watch the show). But I have to say, as tough as this break up with Younes might be, if it is indeed a break up, there's the possibility that it will feel like small potatoes compared to her break up with Scott Disick.
Or there's another possibility... they're still together. No one really knows for sure yet, right?