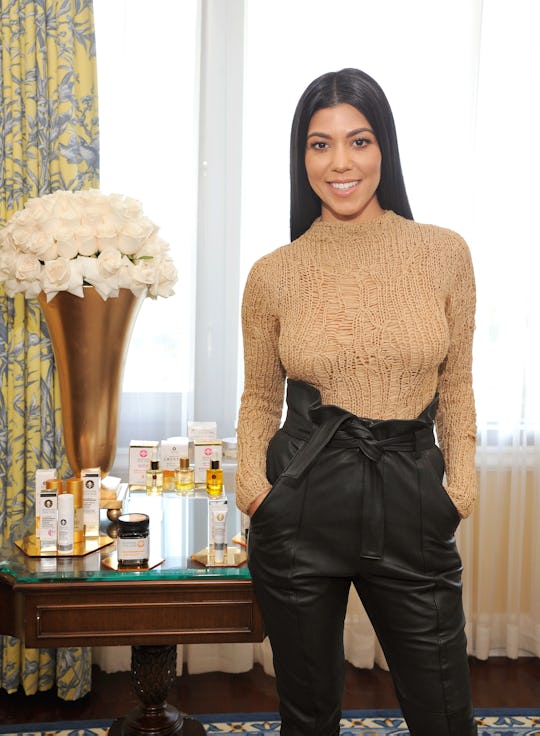 John Sciulli/Getty Images Entertainment/Getty Images
Kourtney Kardashian's Kids Won't Do Family Halloween Costumes Anymore
Kourtney Kardashian is apparently one of those moms who gets super into Halloween, which I totally get. While there are plenty of days when being a mom is overwhelming, exhausting, and more difficult than you might have expected, Halloween feels like a mom's reward. You get to be creative and have fun with your kids in a way that almost never happens any other time of the year. Especially if your kids are willing to do a family costume, the holy grail of Halloween. This used to be a thing for the mom of three, but Kourtney Kardashian's kids aren't into a family Halloween costume anymore and let me just say welcome to my nightmare. Because not to be too dramatic, but it's all downhill from here.
The Keeping Up With The Kardashians star is mom to three kids with ex-partner Scott Disick; 8-year-old son Mason, 5-year-old daughter Penelope, and 3-year-old son Reign as per Access Online. In the past she has been so successful at pulling together family Halloween costumes that she became something of an inspiration to other moms who wanted to do the same with their own kids, especially on Pinterest. Unfortunately for Kourtney, it seems her kids are doing that thing all kids do; growing up and becoming their own people.
It's honestly the worst, and I feel so sorry for her.
On Friday Kourtney shared a throwback picture of herself with the three kids from last Halloween on Instagram, all of them dressed as Power Rangers, and captioned the photo:
My kids don't want to do a group costume with me this year. 😩
It's a dark day, indeed, and if Kourtney wasn't such a notoriously healthy eater I would encourage her to drown her sorrows in some contraband Halloween candy. Especially considering all of the great family Halloween costumes she and the kids (and sometimes even Disick) put together in the past.
Like that time they all dressed up as superheroes and looked amazing in 2016.
Although to be fair here, Kourtney's family does seem to fixate on the superhero theme. As evidenced by their family Halloween costume from 2015, reported by E! News.
And another from 2015 where they were dressed as... you guessed it, superheroes.
Now that I'm looking at their costumes, wonderful as they might be, I do have to wonder if perhaps her kids aren't ready to branch into something more unique. Maybe even a touch scarier. I figure all kids need to dress up as a witch or a ghost or a vampire... and as much as it pains me to say this, they also need to find their own sense of being an individual. Which is tough to do with a family Halloween costume.
The good news is, Kourtney still has her sisters if she wants to do group costumes, and they're clearly game for it. I mean, who could forget the moment when she and her sister Kim dressed as Michael Jackson and Madonna from the 1991 Academy Awards last year? Brilliant.
Because this is the reality of parenting. One day you're the coolest mom on the street because you're into wearing a Halloween costume with your kids. The next you're handing out candy while your kids trick-or-treat with their friends.
It's dark, I know, but at least there's candy at the end of that tunnel.