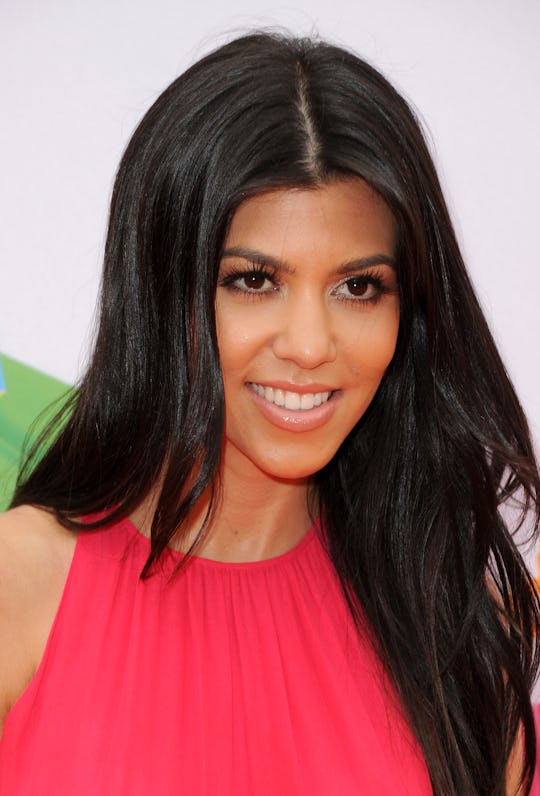 Jason Merritt/Getty Images Entertainment/Getty Images
Kourtney Kardashian's Kid Insta-Pics Are The Best
Kourtney Kardashian has always felt, to me, like the wild card of the family. Which is actually saying a lot when you figure we're talking about the Kardashian/Jenner set. The oldest of the famous five sisters has never seemed all that attached to her fame, like she's bored with how much we all love her, or something. Which naturally makes us love her more. But, like everyone, Kourtney has her own personal Kryptonite: her kids. One look through Kourtney Kardashian's parenting Instagrams will show you that's where her heart truly lies.
Kourtney and Scott Disick (are we calling him an "ex" right now? Are they on or off?) are parents to three kids; 8-year-old son Mason Dash, 4-year-old daughter Penelope Scotland, and 2-year-old son Reign. Over the years, Kourtney has made a name for herself as the earthy sister, not just because she eats healthier than anyone I've ever met but because she's so down-to-earth with her kids. And her Instagram is chock full of candid pics of the kids having fun with their mom or, some of my favorites, just refusing to do anything adorable for the camera. As kids do. She's laid-back and natural with her kids, allowing them to be the people they need to be, and it totally shows.
Like in this pic of Kourtney hitching a sweet ride with Penelope, Mason, and niece North West (the daughter of Kim Kardashian West and Kanye West, you might have heard of them).
Or how about that time the family totally won Halloween with epic group costumes?
And sure, not every mom can afford to take their kids on whirlwind vacations... but Kourtney so clearly loves having her kids with her, you can't even be jealous. Or at least, not totally jealous.
Here she is looking like a perfect love child with Penelope in Ponza, Italy....
Planting a smooch on little Reign...
And encouraging a little sibling love, Kardashian-style.
Kourtney and Disick might be on the rocks at the moment, but that doesn't mean they can't co-parent their kids. The two threw a Fast And Furious-themed birthday bash for Mason and Reign, and became the coolest parents ever.
But let's not get the wrong impression here; Kourtney's kids aren't perfect. They get annoyed, they fight, they won't cooperate. But Kourtney is such a laid-back mom, she documents those moments for posterity too. And they're kinda my favorites. Because that's life with the under-5 set.
At the end of the day, Kourtney Kardashian might be beautiful, famous, and wealthy, but she's like the rest of us moms. She loves her kids, and she wants the best for them.
And that's why we love her.