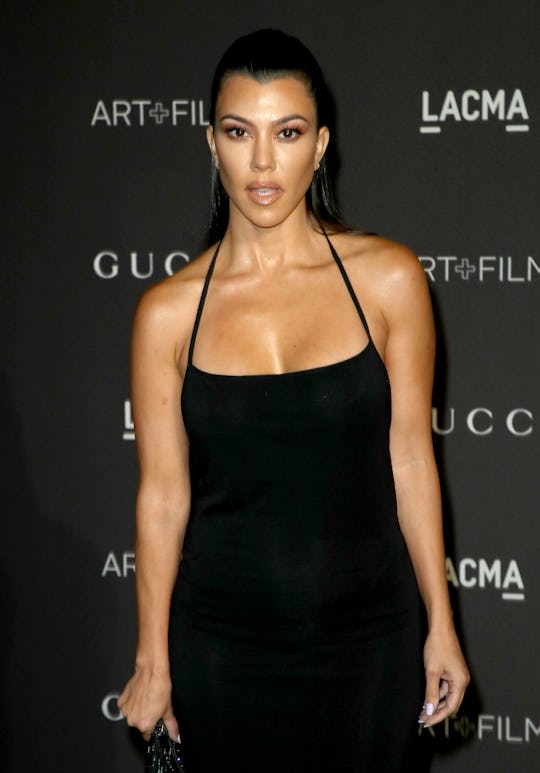 David Livingston/Getty Images Entertainment/Getty Images
Kourtney Kardashian's Response To Pregnancy Rumors On Instagram Is Perfection
Another day, another Kar-Jenner pregnancy rumor. Or at least, that's the way it seems at times. But can you really blame fans for always being on "bump watch," when three of the sisters — Kim Kardashian, Khloé Kardashian, and Kylie Jenner — welcomed babies in 2018? Not entirely, I suppose. However, that doesn't mean the sisters don't have the right to clap back at the incessant baby talk, and Kourtney Kardashian's response to pregnancy speculation on Instagram is just too perfect.
As the Mirror reported, the eldest sibling of the Kar-Jenner clan recently spoke up on Instagram after a number of users jumped to the wrong conclusion. It all started when her younger sister, Kendall Jenner, posted a series of Thanksgiving gathering photos of the family on Thursday, November 22. In the main video clip, Kardashian can be seen with her hand resting on her mid-section while standing next to her ex/the father of her kids, Scott Disick, and two-thirds of their children.
Apparently, the combination of Disick's presence and Kardashian's hand placement set off the red alert for plenty of Instagram users. "I don't know why but it looks like kourt looks pregnant," one person commented.
Another Instagram follower declared, "OMG KOURTNEY DEF PREG !!"
Another person wrote, "Look @kourtneykardashholding her tummy in the video ❤."
Yet another Instagram user commented, "Is that Scott Disick? Kourtney was touching her belly? She's pregnant?"
As Us Weekly reported, Kourtney's response to one person asking, "Is kourt pregnant ??" hilariously shut down the pregnancy speculation. "No, but how good does my arm look in that last photo?" Kardashian shot back, in reference to a picture showing her serving food onto her plate.
As one practical Instagram user pointed out, Kardashian may have very well been touching her tummy as a result of a Thanksgiving feast food baby. They commented, "I hold my tummy after eating food. She's probably pregnant with food. Everyone touching their tummy does not mean they are pregnant lmao."
Still others took the opportunity to jokingly compliment Kourtney on her arm. One person wrote, "@kourtneykardash your arm has mad game, perfect 10 for purpose and posture in this photo... keep slaying."
Another Instagram follower chimed in with, "@kourtneykardash arm goals 🙌🏻."
For the record, another Kardashian-Disick baby wouldn't be entirely out of the realm of possibility. Fans of Keeping Up with the Kardashians probably remember a September episode during which Kim Kardashian shared that Disick wanted to have another child with Kourtney, People reported.
"So Scott just texts me that he wants to have another baby with Kourtney," Kim told her friend, Larsa Pippen. "I think he just wants one more, and she wants one more."
"She definitely wants more kids," Pippen replies. "If they both want to have more kids, why not have them together? Their kids are gorgeous." To that, Kim says:
I mean, it's like, Scott has a girlfriend, Kourtney has a boyfriend — we get it. They don't even have to have sex. It could be IVF.
Whether or not Disick and Kardashian actually have plans in the works for having another child together — despite them not actually being together romantically — a good rule of thumb is to never assume/ask if a woman is pregnant. Unless, of course, she volunteers this information to you. (Or you're her doctor and there's a baby literally coming out of her birth canal.) Because otherwise, you risk looking like a complete *ss — and potentially making that woman feel feel awful in the process. Kudos to Kourtney, though, for handling the speculation like a champ.
Season 2 of Doula Diaries shares the stories of fearless doulas helping their clients take control of their births and make tough choices that feel right to them. Watch the first episode of the new season Monday, November 26th.