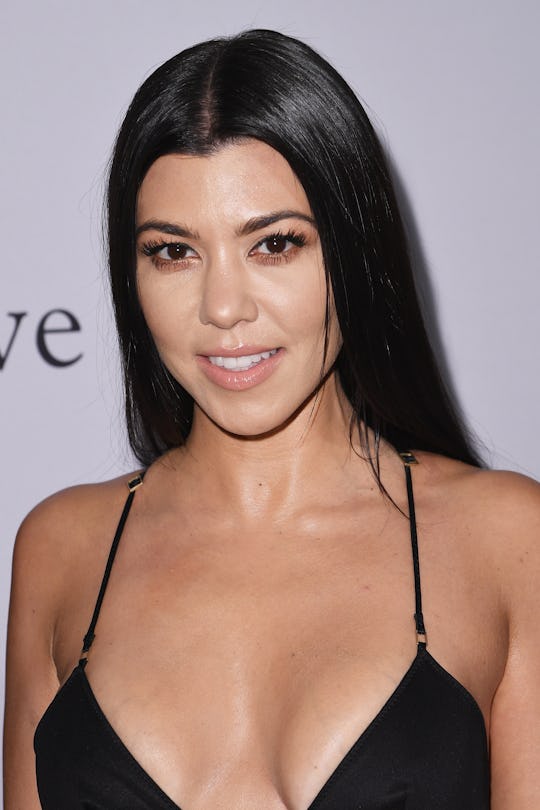 Kevork Djansezian/Getty Images Entertainment/Getty Images
Kourtney Kardashian Jokes About Being Pregnant In A New Interview, & Fans Cannot Handle It
I'd forgo the usual "I just can't keep up with the Kardashians" pun that's been dominating stories about the celebrity tribe, but in truth, I really can't keep up with them anymore. While Kim Kardashian West has confirmed that she's pregnant via surrogate, little sisters Khloe Kardashian and Kylie Jenner are also reportedly pregnant — but neither has yet to confirm the news. Then, two weeks ago, an unnamed source told Life & Style magazine that even Kourtney Kardashian is pregnant, too. In an interview with Grazia this week, Kourtney Kardashian said, "I'm pregnant!" before telling the interviewer she was only joking.
Update: Kourtney Kardashian tweeted an official response to the pregnancy rumors on Tuesday, saying that her comments to Grazia were "completely taken out of context." In a second tweet, Kardashian said she was asked about the "craziest rumor" she's heard about herself, to which she responded, "I've heard that I'm pregnant."
Kourtney, I appreciate the sense of humor, I really do — but this is not helping the whole "which Kardashian is actually pregnant" rumor mill in the least. The International Business Times reported that Kourtney just kind of blurted out the faux pregnancy announcement in the Grazia interview, before the interviewer noted in the piece, "after a long pause... she reassures me she's joking." Ha ha! Awesome. No, but seriously, Kourtney — WTF. Please stop toying with our emotions. The world is literally trying to keep up with your family for real this time and adding fuel to the Kardashian mass pregnancy conspiracy is just making it that much harder for fans.
Kourtney is a mom of three kids with now ex-boyfriend Scott Disick: 8-year-old Mason Dash, 5-year-old Penelope Scotland, and 2-year-old Reign Aston. Kourtney and Disick's on-again, off-again relationship has been fodder for plenty of celebrity gossip, but has also served as a major story arc in the last few seasons of Keeping Up With The Kardashians. Currently, Kourtney is dating Younes Bendjima, a model and former boxer. According to a preview of the next episode of Keeping Up, Disick is pissed that Kourtney is dating Bendjima.
As a single mom, she clearly has a lot on her plate — even without boyfriend drama. But despite the drama between current and former boyfriends, Kourtney has said she wants more kids. She told Cosmopolitan in August 2016 that she could see herself with as many as six kids, doubling her current brood, before adding, "I just don't know what's in God's plan." Back when she was pregnant with Penelope in 2012, she said on an episode of Keeping Up that she "didn't believe" in taking birth control anymore and that having kids "is what life's about."
If Kourtney is in fact, pregnant, it wouldn't be out of the realm of possibility given what she's said about her desired family size and her views on birth control. It's just the timing of it would be absolutely ridiculous: Can you imagine four Kardashians pregnant at once?
For now, Kourtney is playing the "funny ha ha" card about the latest Kardashian pregnancy rumor. On the day the Life & Style story broke about her alleged pregnancy earlier this month, she posted a quick Snapchat of herself wearing a svelte pair of high waisted leather pants, briefly sticking her tongue out at fans. The subtle takeaway is that Kourtney's response to her pregnancy rumors is totally cas' and laid back — much like Kourtney herself. With this little interview stunt with Grazia magazine, she's amped up that whole thumbing her nose at celebrity rumors.
But, then again — Kourtney hasn't totally outright denied it. She only said she was "just joking," and that's not a definitive "No, there is not a tiny human in my uterus right now," which is exactly what her "pregnant but unconfirmed" sisters Khloe and Kylie haven't said either... so anything's possible at this point. They're the Kardashians, and I honestly wouldn't be surprised if Kris Jenner planned all these pregnancies at once for some sweet, sweet 10th anniversary season Keeping Up ratings.
So, is Kourtney Kardashian pregnant? Who knows. I'm pretty sure that all I need at this point is either Kendall or Kris to fill out my Kardashian pregnancy bingo card.