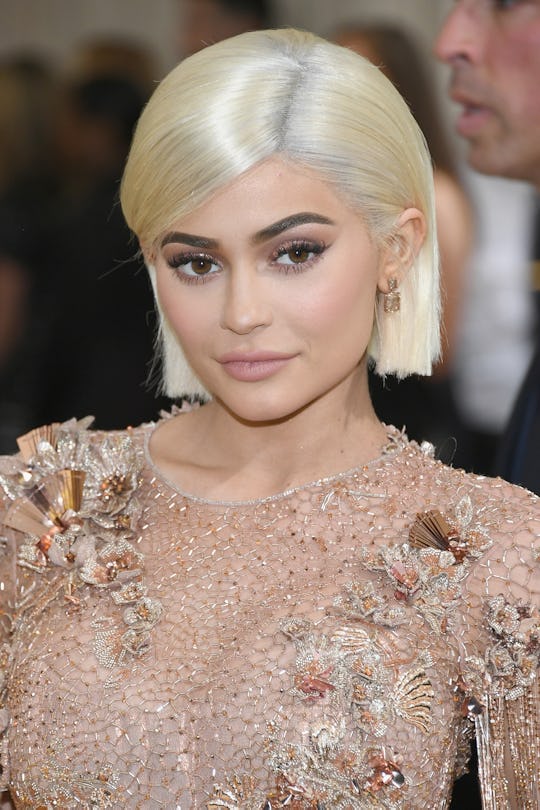 Dia Dipasupil/Getty Images Entertainment/Getty Images
The Internet Is Convinced Kylie Jenner Revealed Her Baby's Sex On Snapchat
Another day, another Jenner-Kardashian pregnancy speculation, am I right? So far, only one member of the Kardashian clan has officially confirmed a pregnancy, as Kim Kardashian West revealed in a clip of this season's Keeping Up with the Kardashians that her surrogate is pregnant with their third child. But what about younger siblings Khloe and Kylie? The internet is still playing a major guessing game, but some fans think Kylie Jenner confirmed her pregnancy AND a sex reveal in a series of photos published on Snapchat. It's time to whip out your celebrity gossip tin foil hats, because these clues are pretty crazy.
The 20-year-old model and reality star posted two very cryptic photos to her Snapchat on Monday. Fans desperate for any kind of confirmation about Kylie's reported pregnancy immediately interpreted that these two seemingly random photos are actually layered with hidden meaning. The first photo shows just a tray of what looks like three Cinnabon cinnamon buns — I'd recognize that frosting anywhere. Fans immediately took this to mean that Kylie has a "bun in the oven" — get it? Super clever, I know.
I present to you, members of the celebrity social media jury, Exhibit A: What do you think?
I mean, if I'm going to be honest, those look downright delicious. But the speculation about Jenner's pregnancy didn't end there. She also posted a photo of three iPhone cases from The Kylie Shop, each featuring a print of her (in)famous pouty lips with dripping color. Two of the iPhone cases were pink, and the other one blue. Jenner cryptically captioned the Snap with just "Which one? I'm thinking blue..." with a blue heart added for emphasis. So, this must mean that Kylie Jenner is not only pregnant, but she's having a boy, natch.
Ladies and gentlemen of the internet jury, I present to you Exhibit B.
Now I know you're dying for my personal hot take on the situation. I will concede that it's just a little suspicious that she has three buns in her first photo, and three iPhone cases in the second — and there just so happen to be three Jenner/Kardashian pregnancy rumors — and there's only one that's been confirmed so far.
Notice how one of those cinnamon buns is turned the other way? Maybe that's Jenner's way of saying that the world knows about ONE bun in the oven — but there could be in fact, two more buns in said ovens — which means that Jenner may have just confirmed both her's and Khloe's pregnancies... And what about those three iPhone cases? One for each bun? Maybe Jenner is having a boy, and Kim and Khloe are each having girls?
Ahh, this is almost too much for my brain to process.
Of course, all of this could just be Kylie bein' Kylie, and her Snapchat pics might mean nothing more than she's got a sweet tooth for breakfast and she's really trying to hawk her latest merch. Maybe we're all just playing into an elaborate publicity stunt, but let's get real: If Kim, Khloe, and Kylie are all pregnant at the same time, this might just be the greatest stunt Kris Jenner has ever pulled off.
Maybe I just need to take a break from Snapchat — but I also can't help the fact that I really am dying to know if Jenner and Khloe are pregnant. The more Jenner continues to post nonstop on social media, the more fans will keep scrutinizing and searching for clues in every last social media post. Given that Kylie was suspiciously absent from the season premiere of Keeping Up, fans are practically getting rabid for a solid confirmation either way: Is she, or isn't she already?