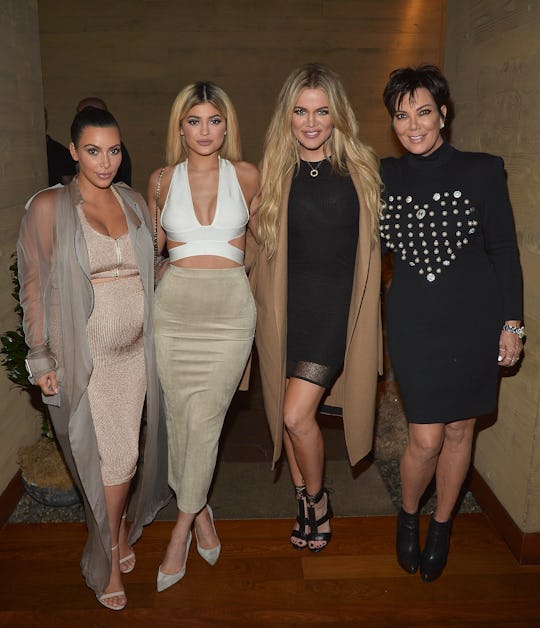 Charley Gallay/Getty Images Entertainment/Getty Images
This Viral Theory About The Kardashian-Jenner Pregnancies Is Low-Key Genius
Have you been keeping up with the Kardashians? Honestly, it's pretty confusing trying to keep up, what with a slew of pregnancy reports over the past week, with nary a one officially confirmed by any member of the Kardashian clan. If you're keeping count, the number of pregnant Kardashians and Jenners stands at three: Kim Kardashian West, Kris Jenner, and now Khloe Kardashian, in that order. The timing of all three feels a bit suspect, and this viral theory about the Kardashian-Jenner pregnancies actually sounds kind of plausible, in its own wild way: The tinfoil hat word on the street is that all three pregnancies will be confirmed on the new season of Keeping Up With The Kardashians, which marks its 10th anniversary this October.
First, to recap: In June, it was reported Kim Kardashian West hired a surrogate. The following month, reports surfaced that Kim K's surrogate was pregnant and three months along already. With no baby news during August, reports that 20-year-old Kylie Jenner is pregnant have captivated fans, if only because Jenner has posted some confusing Instagrams since TMZ broke the story about her pregnancy on Friday. And just in the past 24 hours, yet a third Kardashian is reportedly pregnant — Khloe. Just a reminder: None of them have confirmed any of this barrage of maybe baby reports, and none of their reps have responded to Romper's requests for comment.
Still with me? Because this off the rails theory gets even better.
The Kardashian-Jenner pregnancies conspiracy theory train has been picking up some serious speed since the news of both Kylie and Khloe's pregnancies were announced so close to each other this past week. First, there's the theory that Kylie is Kim K's surrogate — both the surrogate and Kylie are reported to be due around the same time in early 2018. Then when the news broke that Khloe is reportedly pregnant too, a source told People that Kylie and Khloe are due at the same time. So maybe Khloe is Kim K's surrogate? Wait a minute... WHAT IF KIM K HAS TWO SURROGATES?!
All of this is to say that boy howdy, the timing of all three pregnancies feels awfully contrived. But who could possibly orchestrate such an absolutely bonkers plan?
Never underestimate Kris Jenner's ruthless business sense: Fans think that all three pregnancies could be a calculated ploy to boost KUWTK ratings in time for its 10th anniversary. The Kardashian matriarch is the family's business manager, but timing three of her daughters' pregnancies seems quite far-fetched, even for her. Ethics aside, from a marketing standpoint, masterminding three pregnancies at once is pretty genius: The inevitable pregnancy updates and special birth episodes would be a cash cow for both the E! network and the KUWTK franchise.
Of course, all of this is just speculation. But BuzzFeed News did point out that KUWTK has a trend of confirming big news during season premieres over the past 10 years, including previous pregnancies for both Kim K and Kourtney. Even with mounting rumors in June 2015 about Kourtney and Scott Disick splitting up, it wasn't made official until September of that year on the show. Let's be real here for a second: It appears that Kris Jenner doesn't hesitate to cash in on her family's exploits — whether positive or negative— if it means better ratings. (Representatives for Jenner did not immediately respond to Romper's request for comment.)
Full disclosure: I have never understood the appeal of the Kardashians. I think all of them have great hair and Kim K's new makeup line has me at least considering maybe it's time to learn how to contour. But I won't lie: Even I'm pretty stoked to find out who's pregnant and who's not, if only to satiate a gnawing curiosity because of all the buzz about them as of late.
Looks like I and everyone else might have to wait until 9 p.m. Eastern Time on Sunday, Oct. 1, when Season 14 of KUWTK premieres.
Watch Romper's new video series, Romper's Doula Diaries:
Check out the entire Romper's Doula Diaries series and other videos on Facebook and the Bustle app across Apple TV, Roku, and Amazon Fire TV.