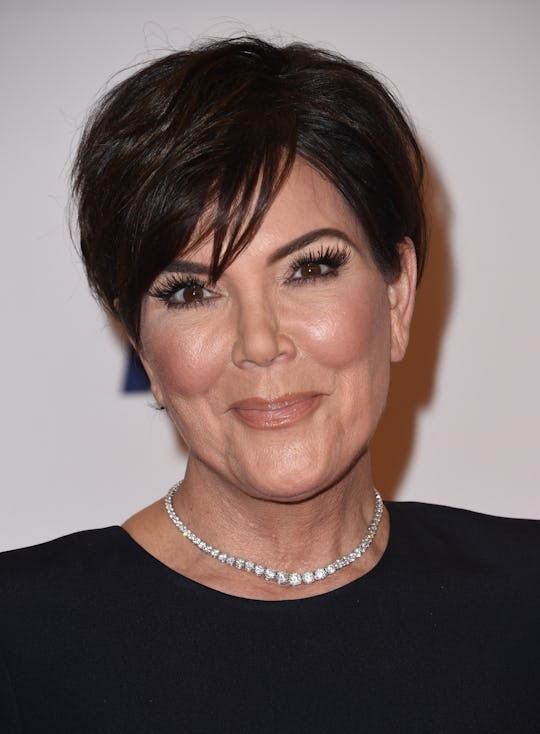 CHRIS DELMAS/AFP/Getty Images
Kris Jenner Memes About Kylie Jenner's Pregnancy…
Kris Jenner is widely known as her kids' "momager." She can be largely credited with turning the Kardashian/Jenner clan into an international household name. She was one of the driving forces behind Keeping Up With The Kardashians, and arranged hundreds of promotional appearances for daughters Kourtney, Kim, Khloe, Kendall, and Kylie through the years to keep them in the public eye. So when news broke that her youngest daughter was reportedly pregnant on Friday, naturally the internet lit up with Kris Jenner memes about Kylie's pregnancy. The majority of which were focused on Jenner's laser-sharp business acumen, and her alleged interest in using any personal drama for family promotion.
According to several reports by various media outlets, 20-year-old Kylie Jenner is expecting a baby girl with boyfriend, rapper Tyler Scott. The two began dating earlier this year after Kylie and longtime on-again, off-again boyfriend Tyga ended their relationship. A source close to the family told People that the Keeping Up With The Kardashians clan has known about the pregnancy for months and are excited for Kylie. That same source also noted that the young makeup mogul and star of Life Of Kylie might have been surprised by her pregnancy, but she is "overjoyed" by the news:
It is an unexpected but completely amazing turn of events that she could not be more excited or thrilled about.
And how might Kris Jenner feel about it?
Ever since TMZ broke the news of Kylie's alleged pregnancy on Friday, fans have been waiting on tenterhooks to hear how the rest of the Kardashian/Jenners might react. Mom Kris Jenner was at Milan Fashion Week on Saturday to cheer on daughter, model Kendall Jenner, as she walked the runway for the Bottega Veneta show. When she was approached by The Cut about the pregnancy rumors, Jenner said:
I just woke up this morning. She's not confirmed anything. I think it's kind of wild that everyone is just assuming that that's just happening.
When asked if the rumor would happen, Jenner shrugged it off, saying:
Something happens every single day. You never know what is going to break at any moment.
Of course, social media had their own thoughts about Jenner's coy non-response to the rumors. Some felt she could have been the one to plant the original news at TMZ, particularly since the pregnancy rumor hit the streets on the 10th anniversary of Keeping Up With The Kardashians (an anniversary special will air on E! this Sunday).
Then there were some who looked at Kylie's pregnancy as a promotional tour Jenner would simply support and nourish because she is simply that driven.
Jenner has certainly made a name for herself as a driven, hardworking mother of six (son Rob Kardashian is rather a dark horse in the family and seems to get a free pass as far as promotional value is concerned, most especially since his social media meltdown over ex-fiancee Blac Chyna and subsequent legal issues). While many on the internet have treated Jenner's rather unapologetic business acumen, there have been several people who have noted the family might not have ascended to such heights without her.
However you might feel about Kris Jenner, give the woman a little credit; she clearly loves her kids. Sure, she might be a bit of a tigress when it comes to self-promotion, but really... if she were a man, I doubt she would catch the same sort of flak. I'm loving the memes, of course, but let's give her the benefit of the doubt here. Let's perhaps not assume that she wanted her daughter to get pregnant for an actual live human being solely because it would be good for ratings.
That's chilly.