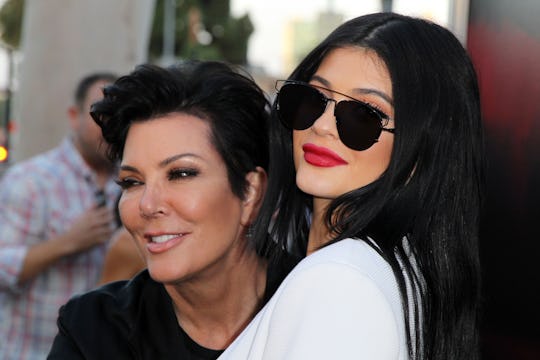 David Buchan/Getty Images Entertainment/Getty Images
Kris Jenner Responds To Rumors About Stormi's Paternity, Putting An End To It Once & For All
People say some awful things about the Kardashian and Jenner women, but the rumors that Kylie Jenner's baby is her ex-boyfriend Tyga's and not Travis Scott's is just terrible. Luckily, momager Kris Jenner responded to the Tyga paternity rumor and shut people down once and for all, as she is wont to do. People have been speculating that baby Stormi was conceived while Kylie was in between her ex and Scott, since she was first spotted publicly with Scott just a few weeks after she broke up with Tyga in April 2017.
Tyga hasn't done much to curb the rumors, either. Back when the rumors first broke about Kylie's pregnancy, he allegedly shared a post on social media alluding to the fact that it might be his. He later suggested that the whole thing was made up by the media. He told Metro UK, "I didn't comment on anything, I didn't comment on anything, it was a fake story." So he sort of started the rumors in the first place with that alleged cryptic post.
Radar Online reported last month that the 20-year-old rapper was demanding a paternity test, too, though he not publicly commented on this report. 'Tyga told friends that he was still sexually active with Kylie nine months ago, when this baby was likely conceived," the source reportedly said.
"He has a lot of questions and most importantly he still wonders if there is a chance if that baby could be his," the source added, according to Radar Online. "Tyga misses Kylie now more than ever, really wants to meet the baby and wants some clarity and or closure on their situation."
Kris was having an interview with radio host Kyle on the 106.5 show Kyle and Jackie O. According to Just Jared, Kyle said, "Tyga was chiming in saying maybe it was his baby." Kris responded, "Oh no, no no. I think that was just a bunch of silly rumors as usual." She added, "Yeah you guys know better than that."
Concise and to the point, as always. Here's the thing about these rumors: people need to quit with them. It's really unacceptable that people feel like they can essentially shame the lip kit mogul for "sleeping around" and possibly not knowing who the father is. It's just rude and none of their business.
If Tyga really is behind all the rumors about wanting a paternity test, he should take a hint. Obviously, he was just as out of the loop about Kylie's pregnancy as the rest of us, given that he spent a lot of time this fall insisting that the pregnancy was all a sham.
Given these new blind rumors about Tyga missing Kylie and wanting to meet the baby, it sounds like she's moved on from that part of her life and doesn't want anything to do with him. Remember — he was randomly very quiet on social media right after Kylie released that beautiful pregnancy announcement video in which she and Scott appear to be closer than ever, even hanging out with each others' families.
Everyone should just respect the fact that Kylie's very obviously made her choice about who she wants to consider family. Also, since we live in a world in which anything can be looked up all the time, it's possible that one day Stormi will be perusing the internet and come across a headline suggesting that the man she knows as her dad isn't. That can be so confusing and traumatic, though nothing new for the family.
For the longest time, according to Page Six, there were rumors that Robert Kardashian wasn't actually Khloé Kardashian's dad and was the result of Kris Jenner cheating on him, as Kris revealed in her book Kris Jenner and All Things Kardashian.
Back in 2012, Kris also wanted to shut down those rumors and tried to convince her daughter to take a paternity test back in 2012. "Khloé has had it with me torturing he over this swab test. I know all the rumors are absolutely ridiculous, but I know this is something she needs in order to feel complete," she said at the time, according to Us Weekly. She gathered the whole family to help convince her daughter to take the test, with Kim backing her mom and Kourtney and Rob thinking it totally crass. Luckily, Khloé wasn't as torn up by the rumors as Kris was, saying that she didn't care what people thought.
It's good that Khloé was able to move past it, but that doesn't mean paternity rumors aren't hurtful to everyone involved. But that's what Kris Jenner is there for, right? It's good to know that Kris will always stick up for daughters in the face of nasty gossip.
Check out Romper's new video series, Bearing The Motherload, where disagreeing parents from different sides of an issue sit down with a mediator and talk about how to support (and not judge) each other's parenting perspectives. New episodes air Mondays on Facebook.