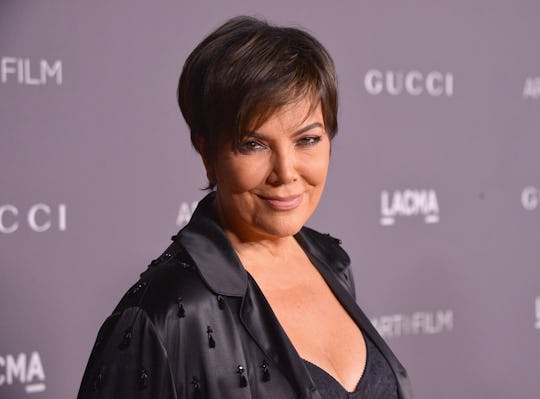 Charley Gallay/Getty Images Entertainment/Getty Images
Kris Jenner Is Supporting Khloe No Matter What Like The Amazing Mom She Is
Kris Jenner has become famous for her skills as a momager, handling the brands of her five daughters with the precision of a many-headed Hydra. In fact, knowing her she probably owns the term momager and I now probably owe her money for using it or something. But people tend to forget that she is a mom first and a manager second. Sure, we all love to tweet about how hard she works and how she's pretty ambitious and all that. But here's the thing; she's always in her kids' corner. When Kris Jenner said she supports Khloé no matter what, and it's actually a pretty beautiful example of how she's always there for her kids.
Most of us know why Khloé is on her mind these days; the 33-year-old Revenge Body host is a new mom to little girl True Thompson with her NBA player boyfriend Tristan Thompson. She's still living in Cleveland, Ohio with him, despite several reports that he was allegedly cheating on Khloé while she was pregnant back in April. While Khloé has yet to come out and confirm that she is indeed staying with Tristan, she has been seen enjoying a date night with him and has even gone to a few of his basketball games since welcoming True on April 12.
And what does Kris Jenner think of all this?
She trusts her kid. Kris spoke to reporters at a Moshcino circus-themed runway event on Friday about her daughter, and how she feels about both Khloé and Tristan these days, according to Us Weekly:
I think you just have to be there for your kid and follow their lead. I'm not in that relationship or in that situation, so I really trust Khloé. She's so smart, and such a great girl, and she'll figure it out.
And this is why Kris Jenner is the queen of all things. Because no matter what her six kids might get up to, whether youngest daughter Kylie is pregnant and keeping it a secret from the world or model daughter Kendall is struggling with a controversy because of a Pepsi ad campaign she took part in or son Rob Kardashian is going through the messiest breakup and custody battle in a shockingly public way, Kris deals with it. She gets s**t done. While never saying one bad word about her kids.
So too it is with daughter Khloé. Whenever Kris is asked about her daughter's relationship, like she was by family friend Ellen DeGeneres on her talk show, Kris keeps it classy. This is how she answered the talk show host's question about Tristan's "unexpected" behavior:
Very unexpected but Khloé is AMAZING. I'm so proud of that kid. I get chocked up because she's such a good mom and it honestly gets me so emotional.
That's what a mom is supposed to do, be in their kid's corner no matter what. Kris Jenner gets a pile of flack from people who think she's using her kids for money, but here's my take on that; she and her daughters (sorry Rob, but you are really no help) have built an empire together that should keep generations of their family living comfortably. And they did it by sticking together. Who do you think they learned that from?
Her kids most definitely know, as Khloé wrote in a moving Instagram post to her mom for Mother's Day:
Happy Mother's Day to the best mommy we could ask for!! Just remember mama "you're doing amazing sweetie!" You really are!! We couldn't imagine life without you!! You are the reason for it all!! Thank you for showing us what unconditional love and loyalty is!
Whatever the future holds for Khloé, she knows she has the support of her sisters, her fans... and perhaps most importantly, her mom. And that, my friends, is no small thing.