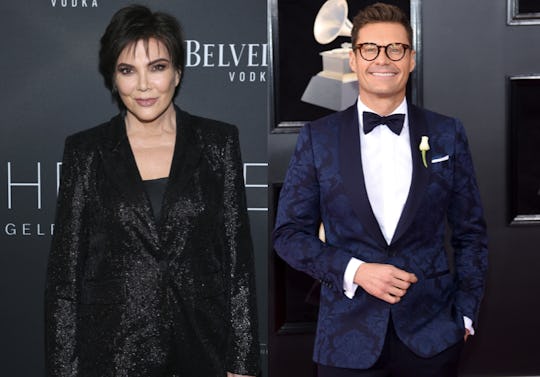 Phillip Faraone/Getty Images Entertainment/Getty Images, Jamie McCarthy/Getty Images Entertainment/Getty Images
Kris Jenner Posts A Message Of Support For Ryan Seacrest Amid Oscar Controversy
In the wake of the #TimesUp and #MeToo movements taking over Hollywood, and beyond, it seems as though many more accusations are being made each day. And now, on Oscar Sunday, Kris Jenner is supporting Ryan Seacrest amid allegations from his former stylist.
The allegations against Seacrest have been controversial, to say the least. In November, Seacrest was accused of harassment of a former E! stylist. Specifically, as The Hollywood Reporter, who first reported on the allegations, said, "The claim comes from a former E! wardrobe stylist, who has come forward to allege that Seacrest behaved inappropriately toward her during his tenure at E! News nearly a decade ago."
Since then, a lot has happened, including Seacrest denying the allegations (his statement is below) and E! News clearing him of any wrongdoings. And now, just as the 90th Academy Awards are underway, Kris Jenner, a longtime friend and coworker of Seacrest's has come forward in support of him and his work. In an Instagram post, Jenner wrote, "Oscar Sunday wouldn't be the same without you @ryanseacrest @giulianarancic!! Can't WAIT to watch you on the Red Carpet tonight!! I look forward to this night every year! I'm so proud of you!!" Jenner also included several hashtags, including #beautifulheart.
Seacrest has vehemently denied the allegations since they came to light. His statement in full, according to People, reads:
Recently, someone that worked as a wardrobe stylist for me nearly a decade ago at E! News, came forward with a complaint suggesting I behaved inappropriately toward her. If I made her feel anything but respected, I am truly sorry. I dispute these reckless allegations and I plan to cooperate with any corporate inquiries that may result," Seacrest's statement reads.
I treat all my colleagues with kindness, dignity, and understanding, as this is a principle that's core to who I am. Throughout my 25 years in the entertainment industry, the majority of my co-workers have been women, and I've endeavored to foster a positive work environment of mutual respect and courtesy, as that's how I believe it should be," he adds. "I'm distraught that anyone or any situation would call that into question. I'm proud of my workplace reputation, and believe my track record will speak for itself. I'm an advocate for women. I will continue to support their voices.
Obviously, it makes sense that Jenner would want to support Seacrest, as the two have worked together on their reality show, Keeping Up With The Kardashians for over ten years now. Additionally, Jenner's daughter, Khloe Kardashian, has also expressed her support for Seacrest via Twitter.
"Oscar Sunday!!" she wrote, continuing, "I love the E red carpet coverage with my favs @RyanSeacrest and @GiulianaRancic."
Jenner and Kardashian aren't the only ones sending Seacrest their support, though. His cohost on Live With Kelly And Ryan, Kelly Ripa, also expressed her sentiments on their show, as People reported. "And I just want you to know, you are a privilege to work with and I adore you," she said on their show. "Speaking on behalf of all of us here, I know what a easy, professional, great person you are, and I feel very, very lucky to work with you each and every day."
In addition to his initial denial of the allegations against him, Seacrest also accused his accuser of blackmail. According to People he released he following statement:
This person who has accused me of horrible things offered, on multiple occasions, to withdraw her claims if I paid her millions of dollars. I refused. I have worked extremely hard to achieve my success and I don't take my opportunities for granted. I don't want to accuse anyone of not telling the truth but in this case, I have no choice but to again deny the claims against me, remind people that I was recused of any wrongdoing, and put the matter to rest.
Seacrest continued to host the E! red carpet Sunday evening, despite the controversy. And despite some backlash on Twitter for his role in the red carpet, the E! red carpet host carried on as planned.