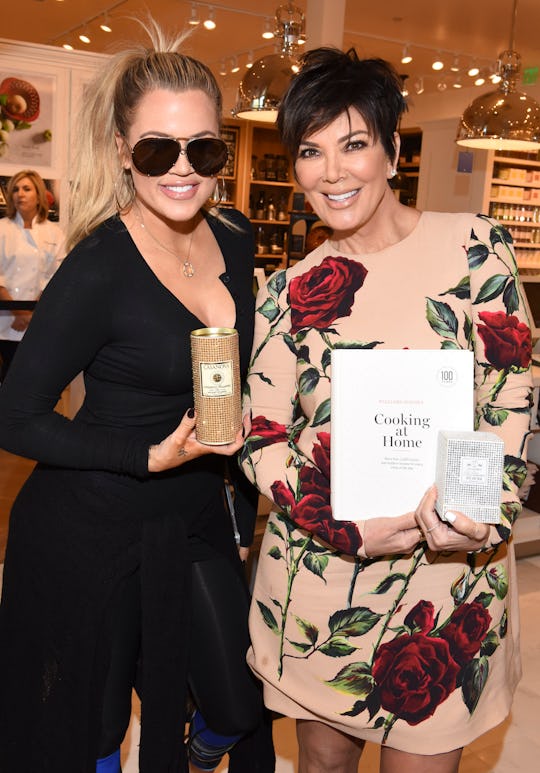 Vivien Killilea/Getty Images Entertainment/Getty Images
Kris Jenner's Reaction To Khloé Kardashian's Baby News Is Surprisingly Subtle
Guys, the day is finally here. Khloé Kardashian has officially put all those rumors to rest and has confirmed her pregnancy with her first child, doing so in the sweetest way possible. Obviously, fans are elated for everyone's favorite Aunt Koko, responding with plenty of excited tweets and screaming GIFs. But how has her own family responded to the news? Well Kris Jenner's reaction to Khloé's pregnancy news immediately after the fact was surprisingly subtle. But if we know the momager extraordinaire like we do, we know something sweet and perfect is on its way.
Update: Kris Jenner posted a more official announcement on Thursday morning. She re-'grammed Khloé's Instagram announcement with the following caption:
God is so good!! I am beyond excited! What a blessing!!!!!!! ❤️
Previously: As almost everyone on social media did on Wednesday evening, Kris was one of the first thousand people to like Khloé's pregnancy announcement photo, which showed her bump front and center while she stood in a Calvin Klein sports bra as boyfriend Tristan Thompson's hands laid on her belly. The black-and-white shot of the couple's bundle of joy really is gorgeous.
It's not surprising that Kris would like the photo almost instantly. But what has thrown fans for a bit of loop is that Kris has yet to pen a heartfelt tweet or post a photo of her with her daughter on Instagram.
But, to be fair, Kris has had a lot more time to fully freak out to this news than the rest of us.
Even though Kris hasn't made an official statement about Khloé's exciting news, fans are having a blast imagining how she's reacting to it all right now.
Although Kris never officially spoke about Khloé's pregnancy before Wednesday, she did drop a few massive and telling hints that those baby rumors were indeed true. For example, back in November, Kris posted a photo of children's pajamas, which she noted were for her grandkids. But, according to People, as fans quickly noticed, there were nine pairs of PJs, which is three more than her current number of grandbabies.
Those three extra sets, as fans theorized, would account for Khloé's baby-to-be, sister Kim Kardashian's third child — whom she and Kanye West are expecting via surrogate — as well as Kylie Jenner's rumored baby, which has yet to be addressed by anyone in the famous family.
Well, as fans can now assume, at least two of those pajama sets are spoken for. But, not long after that cryptic photo took over the internet last month, Kris broke her silence on the matter and totally covered her bases without spilling any of her daughter's beans.
During an interview with Steve Harvey on Steve, Kris was asked about the photo and explained:
Well, this was a gift. Oprah had these pajamas as one of her favorite things. It's Burt's Bees Baby. They have the most beautiful, organic cotton pajamas. I went on their website and they were all sold out. I called the company and said, "Come on, don't you guys have a few left?" And that's what they sent.
Then, of course, there was that time when an emotional Kris compared the volume of babies in her family as a "faucet" she couldn't turn off. According to E! News, she said:
I used to pray that one of you guys would have a baby and now it's like a faucet that we turned on and won't turn off. The fact hat I have all these grandchildren, it's been the most amazing journey to watch your kids because it's truly the meaning of just life.
Needless to say, fans definitely had a feeling that the proud grandmother was probably hinting at something, even if she wasn't explicitly saying what it was.
Although Kris has yet to speak out about Khloé's pregnancy officially, any fan of the Keeping Up With The Kardashians matriarch knows when she first found out, she properly freaked out — just like the rest of us are right now.
Check out Romper's new video series, Romper's Doula Diaries:
Watch full episodes of Romper's Doula Diaries on Facebook Watch.