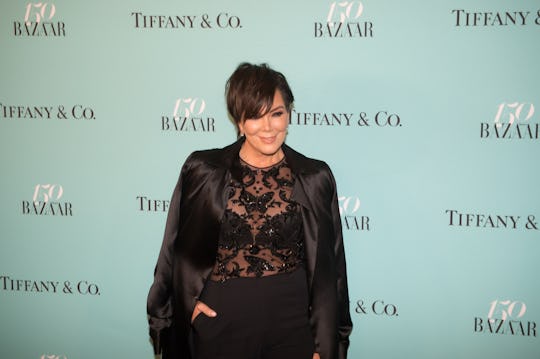 BRYAN R. SMITH/AFP/Getty Images
Kris Jenner May Be Becoming A Grandmother Again
It appears as though the Kardashian/Jenner family may be continuing to grow. According to TMZ, Kylie Jenner is reportedly pregnant and the father is her boyfriend, Travis Scott. Kylie herself has yet to confirm whether or not this is true, but TMZ claims that sources have told them that Kylie began telling friends about the pregnancy earlier this month during the Day N Night music festival in Anaheim. But what about the matriarch of the Kardashian/Jenner family? What is Kris Jenner's reaction to Kylie's reported pregnancy? As of now, she has yet to voice her opinion on the matter. Romper has reached out to Kylie for comment, but has yet to hear back.
But, of course, Kris will certainly have some heartfelt words to say about her upcoming grandchild (if the reports turn out to be true), so fans of the family can expect to read an official statement from her rep or via her Twitter account once she gets a chance. (Maybe she's currently too busy shopping for adorable outfits or celebrating the exciting news.) Either way, until Kylie herself confirms the reports, it's unlikely that Kris will say anything first.
Though further details about the alleged pregnancy are scarce, sources have also supposedly told TMZ that the 20-year-old reality star is having a baby girl.
Adding further fuel to the fire — and making the reports seems more and more likely to be true — People has confirmed Kylie's pregnancy with a source of their own, who claim that she is due sometime in February 2018. But this baby won't be the only one joining the Kardashian ranks in the coming year. Kim Kardashian is expecting a third child via a surrogate, who is due sometime in January.
In fact, considering how close these two due dates seem to be, the people of Twitter has formed a collective theory that Kylie is actually pregnant with Kim and Kanye West's baby.
Of course, this seems highly unlikely, considering the due dates are a month apart (unless one of the due dates is wrong). But if TMZ's reports are true and both Kylie and Scott are telling friends that the baby is theirs, that makes this theory all the more inaccurate. But still, Twitter likes to have its fun.
Both babies will be in good company, though, and have plenty of cousins to play with. Aside from their soon-to-be third child, Kim and Kanye are also the parents of daughter North, who turned 4 in June and Saint who is currently 21-months-old. Meanwhile, Kylie's brother, Rob Kardashian has a daughter of his own, Dream, who is 10 months old. Then there's her sister Kourtney Kardashian who has three children: Mason, 7, Penelope, 5, and Reign, 2. Suffice to say, Kylie's child would have playmates for life with this bunch!
All of the Kardashian family's social media accounts remain relatively silent for now, including Kris Jenner's. Either they're purposefully keeping quiet for the time being while Kylie figures out how to make the official announcement or their really is nothing to tell. I have a feeling the public won't have to wait very long, though, before they get an answer. After all, when has this family ever been known for staying under the radar?
Regardless, Kris loves her family more than anything — which can pretty much be proven by watching any KUWTK episode out there — so she'll undoubtedly be thrilled to welcome another adorable member.
Watch Romper's new video series, Romper's Doula Diaries:
Check out the entire Romper's Doula Diaries series and other videos on Facebook and the Bustle app across Apple TV, Roku, and Amazon Fire TV.