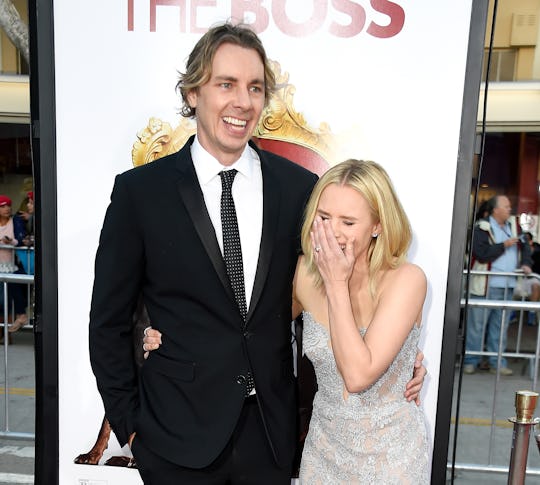 Frazer Harrison/Getty Images Entertainment/Getty Images
Kristen Bell Says She & Dax Aren't A "Power Couple" For This Hilarious & Relatable Reason
When it comes to admirable celebrity couples, Kristen Bell and Dax Shepard are an easy one to love. After four years of marriage — and 11 years together — the hilarious couple are not only still crazy about one another, they're also parents to two daughters, 5-year-old Lincoln, and 3-year-old Delta. Yet, as much as they may totally fit the description of ultimate #relationshipgoals, Kristen Bell doesn't think she and Dax Shepard are a "power couple," and her reasoning is exactly why they're so awesome.
On Wednesday, Bell and her The Good Place castmates attended a screening event for the highly-anticipated third season, and in a chat with E! News, Ted Danson referred to Bell and Shepard as a "power couple." Though many of us would likely agree with Danson's assessment, when Bell was asked for her opinion, she immediately cracked up. She ultimately accepted the title as a "high compliment" from her co-star, who has been married forever according to Hollywood standards (he and actress Mary Steenburgen tied the knot in 1995). But she did seem a bit confused by the idea, and added, "I don't know what we have power over. It's certainly not each other or our children. We don't feel powerful."
Even though it often seems like many celeb power couples — Kim Kardashian and Kanye West, Beyoncé & JAY-Z, Amal and George Clooney — must live in a glamorous Hollywood bubble where everything is easy and expensive, Bell and Shepard have never made any secret of the fact that, while they may be celebrities, they still go through the same ups and downs as spouses and co-parents that the rest of us do. And really, it's that kind of relatable honesty that makes them so beloved among their fans.
Bell definitely seemed to take Danson's comment with a laugh and a hearty dose of salt, but she also told E! News that people shouldn't get the wrong idea about what their relationship is really like. Joking that she and Shepard were "really just getting by," Bell said, "We feel vulnerable just as much as everyone else does."
It's that vulnerability — along with their willingness to be open about it — that really makes Bell and Shepard worthy of "power couple" status though. Because while they may not be breaking the internet with an Instagram twin pregnancy announcement, they are showing the world that even when you're famous and successful, you still have to work really, really hard if you want your marriage to be healthy — especially after having kids. And while they certainly don't profess to know it all, it's clear that, at this point, they've definitely learned a thing or two.
On Valentine's Day earlier this year, for example, a fan asked Bell if she could write a note to his friends, who were about to get married, according to TODAY. She agreed, and in an Instagram post, Bell explained that she soon realized that what she came up with was actually "pretty much the A-Z of how [she and Shepard] keep [their] relationship healthy." The actress shared the note with her followers, and unsurprisingly, it was pretty brilliant. Some of Bell's tips? Leave room for individuality, celebrate one another, and "know that everyone is doing the best they can with what they've got."
Certainly, Bell would likely agree that some of those tips are easier said than done at times, and in fact, in his inaugural episode of his podcast, Armchair Expert, Shepard interviewed his famous wife, but admitted he almost didn't release it, because the two of them "were just not getting along" that day. In the end though, he realized that might actually be why it was worth sharing. Shepard said,
The first half of the interview was a struggle. In fact, I considered just leaving this unreleased because, truthfully, I'm embarrassingly controlling throughout most of it, and she is, by my estimation, very suspicious of my motives throughout. But, ultimately, I have decided to put it out because it's real, and true, and we do find our way back to liking each other by the end. In short, I want you to think of this episode as the antidote to our Samsung commercials.
As easy as it definitely would have been for Shepard to nix the interview, or just re-record one later that would have made them look perfectly happy and in love, the episode instead serves as a perfect example of everything Bell wrote about in her note. Marriage, after all, can be challenging no matter who you are. And being honest about that when they don't have to be is what should really make them deserving of being considered a celeb power couple.