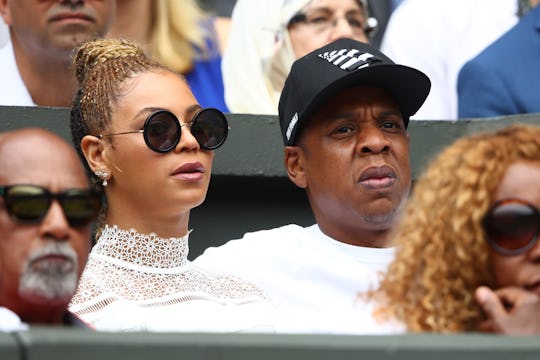 Clive Brunskill/Getty Images Sport/Getty Images
Who Photographed Beyonce's Pregnancy Announcement?
There was a time in the dark ages when a pregnancy announcement was some lame ad in the newspaper. Or you just called people and said, "Guess what, I'm pregnant." As with everything else, Beyoncé has delivered us from boring. Not only did Queen Bey drop the glorious news on us that she is pregnant with twins, she shared the most amazing birth announcement pic ever on Instagram. Wondering who photographed Beyoncé's birth announcement? It's unclear, but some people think she used a photographer and videographer who directed her video for "XO," Terry Richardson.
Update: Beyoncé's beautiful maternity photos were actually shot by artist Awol Erizku. Erizku reportedly confirmed the news to ARTNews via text, according to Vanity Fair. Erizku has also photographed stars like Viola Davis for places like The New Yorker. To see more of his stunning work, visit his Instagram or his Tumblr here.
Beyoncé took to Instagram to share the intimate, stunning photo of herself cradling her baby bump with the caption:
We would like to share our love and happiness. We have been blessed two times over. We are incredibly grateful that our family will be growing by two, and we thank you for your well wishes. - The Carters
The post had more than one million likes within the first 20 minutes (it's almost as though people were all starved for a little good news or something). The news of Beyoncé being pregnant was enough to send fans into fits of glorious hysterical crying, but the news that she's having twins with husband Jay Z? And that perfect photo? Fans are losing their minds.
Can we also just talk about the fact that Beyoncé released her baby bump photo to end all baby bump photos on the first day of Black History Month? The Grammy-award winning singer is like a social media wizard. She knows exactly what people want and what has meaning.
While Beyoncé has yet to share the identity of the photographer responsible for her pregnancy announcement, some are speculating that it could be Terry Richardson; he has been a favorite of Queen Bey's in the past, after all, he recently directed her "XO" video, and has shot her for the cover of Harper's Bazaar.
Whoever took the photo of Beyoncé, the news of her pregnancy is seriously exciting, especially after last year's release of her visual album Lemonade, which had rumors swirling that she and Jay Z were on the rocks. As Beyoncé prepares to potentially sweep the Grammy Awards this month (she leads the pack with nine nominations), it looks as though Queen Bey is still reigning supreme. Her career is on fire, she has a beautiful little girl, and she's pregnant with twins. And the Queen knows all about the beauty of being pregnant. As she said in her 2013 documentary Life Is But A Dream:
Being pregnant was very much like falling in love. You are so open. You are so overjoyed. There's no words that can express having a baby growing inside of you, so of course you want to scream it out and tell everyone.