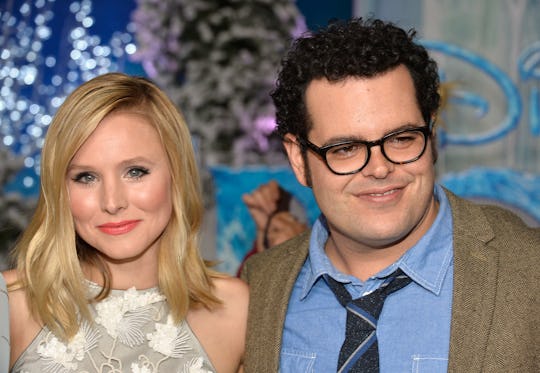 Frazer Harrison/Getty Images Entertainment/Getty Images
Kristen Bell Helped Josh Gad During Hurricane Irma, Because 'Anna Loves Olaf'
Friends show up for you in times of crises, this we know for sure. But true friends even show up for your family... Kristen Bell is this kind of friend (as if any of us are even a little surprised). As Hurricane Irma made landfall in Florida and Gov. Rick Scott continued to frantically urge residents to "leave now," the Frozen actress stepped up in a very real way. Holed up in Florida herself, it seems Bell saved friend Josh Gad's family from Hurricane Irma. Why, you ask? Because Anna obviously loves Olaf.
Like so many other people in Florida, Bell was unable to evacuate. Unlike so many other people, including Gad's family, she already had a place to stay. The mother of two is filming a movie in Florida and is staying at a hotel there. When she heard that her friend's family was stranded and couldn't evacuate, she swooped in to save the day. Gad took to Instagram with an adorable pic of his parents posing with Bell and heartfelt words of thanks:
So @kristembell literally saved my parents and my entire family tonight from #hurricaneirma. When they were stranded in Florida, she got them a hotel room at her hotel in Orlando and saved them, my brothers, my sister-in-law and niece and nephew. They don't make them like this girl. Thank you Kristin. You are truly an angel sent from above.
When Gad posted his thanks on Twitter, Bell responded with the best, most Anna-ish response ever.
This isn't the first time Bell has chosen to reach out during Hurricane Irma rather than hunkering down in her (probably) plush hotel room at the Swan Dolphin at the Epcot Center. On Friday, she decided to head out for provisions to brace for the storm, according to a post on her Instagram page.
Last run to the store for #irma hurricane holdover prep while bracing down in orlando- we didn't have the option to leave so here we are. Just doing our best and trying to stay positive but cautious, and trying to help those who need help prepping.
While not every celebrity is able to take such a hands-on approach as Bell, there have been plenty sending out words of encouragement and support through social media as Hurricane Irma ravaged islands in the Caribbean before moving in on Florida.
In a press conference on Saturday, Florida Gov. Rick Scott called the Category 4 hurricane: "The most catastrophic storm the state has ever seen," according to Time.
Scott urged any residents of Florida living in evacuation zones (about 6.3 million of the 21 million people living in the state):
You need to leave — not tonight, not in an hour, right now.
For those people who are unable to leave, it's good to know there are decent humans like Kristen Bell ready to help. Because that's honestly the only way people can survive... with a little help from their friends.