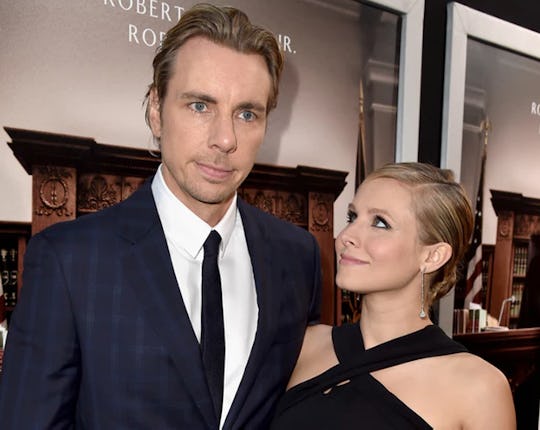 Kevin Winter/Getty Images Entertainment/Getty Images
Kristen Bell Reveals Her Marriage To Dax Shepard Isn't Always Easy
Kristen Bell and Dax Shepard are social media couple royalty. Not only are they adorable, but they're both hilarious and and super open about their lives. They are the couple we all want to be, but don't go thinking their loving marriage comes easily. Bell recently revealed her marriage to Shepard isn't easy, and it honestly makes fans admire them even more.
Bell and Shepard, who are parents to 4-year-old daughter Delta and 2-year-old daughter Lincoln, have been married for nearly four years but together for a decade. Since then, they've made protecting their marriage a top priority in their lives, even heading into counseling early on in their marriage because, as the Parenthood star said on Good Morning America:
Most people wait until the thing is exploding before they see a professional. I thought maybe an ounce of prevention this go-around would be advisable.
But even with the counseling, the adorable tweets back and forth, and the general sweetness both Bell and Shepard emit, sometimes marriage is just a crazy amount of work. Bell spoke to Us Weekly at the launch of Naked Juice and Wholesome Waves' #DrinkGoodDoGood campaign about her marriage to Shepard, and admitted with her trademark honesty:
Our marriage took a lot of work, takes a lot of work. I don't think people realize.
The Bad Moms star went on to admit that:
It is not easy to work around another human being, but if you commit to it, you can pretty much permanently respect that person, but then it doesn't really matter if you disagree because you still respect that person. But on a daily basis, he just makes me laugh all the time. He's obsessed with attention, so he's constantly making jokes to try to get me to give him more attention or to get me to giggle. And you know, he was a stand up comedian, so I'm living with a comedian.
While the couple are clearly compatible (see above picture of Bell and Shepard in silly pajamas and every Game of Thrones reference they've made on social media as evidence), that doesn't mean they agree on everything or very much at all when it comes down to it.
Bell admitted:
I do disagree with him on 90 percent of the issues on the planet. But we have really wonderful, intense valued conversations about things, and I always see his point, even if I disagree. It's hard to do.
Even if she does disagree, there are certain rules of fair play Bell subscribes to, and they're worth noting. One of those rules? Never treat the person you love with contempt, as she told Us Weekly:
Never roll your eyes at someone. You might as well break up right then because its contempt. I'm telling you — I disagree with him on almost everything, but I have intense respect for his critical thinking skills and the fact that we were raised differently. I always see his point. I do not and will not ever have contempt for him.
Is it crazy to look to a celebrity I've never met to offer solid, practical relationship advice? Maybe, but here's the thing; Kristen Bell and Dax Shepard have a hell of a lot of wisdom stored up. And they're generous enough to share it with we regular folk. So who would I be to turn my nose up at such sage advice?
Besides, we have to protect Shepard and Bell. In these post-Faris and Pratt days, we need all the help we can get.