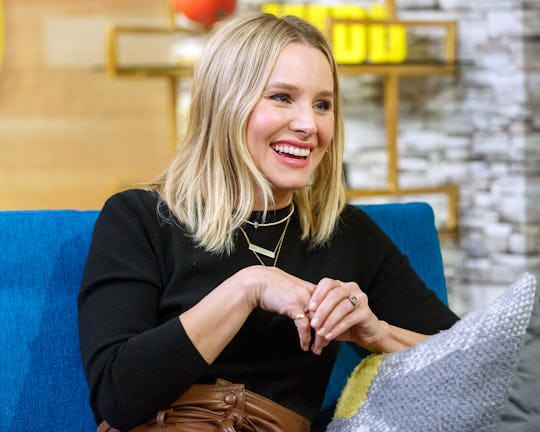 Rich Polk/Getty Images Entertainment/Getty Images
People Are Shaming Kristen Bell After She Said Her Kids Hadn't Showered For 5 Days
Sometimes, my toddler will go a day without be bathed. Usually, it's at the end of a long day of playing at what we call "the big playground," where there is one huge sandlot and an area with a dirt floor and a bunch of logs that kids could turn into little forts. My son is beat and falls asleep on the way home. So I wipe him down, change him into his pajamas, and get him to bed. In the end, it's not big deal. Yet Kristen Bell is getting shamed after sharing her kids hadn't showered for five days, because apparently a little dirt hurts everyone.
Here's the backstory: Bell, who stars in the hit NBC sitcom, The Good Place, had been on a camping trip with her husband, actor Dax Shepard, and their two daughters for the last week or so, as indicated by some of the actor's Instagram posts.
So in a recent Instagram post, Bell shared a rare photo of their two little girls, 5-year-old Lincoln and 3-year-old Delta Blue, hanging out at Glamis Sand Dunes in Southern California, according to People. The photo shows her daughters with their backs turned to the camera, playing with toys on the blanket laid across the sand.
Bell shared the photo to her Instagram account on Tuesday, as People reported, and captioned the post:
Caked with sand on every inch, unshowered for 5 days, and loving that sand dune life #glamis#camping
Now, I haven't been camping, so I am not familiar with the ins and outs of being one with nature or whatever. But I'm sure skipping a few bath times is more probable than not, especially when you're living out of a small motor home for the trip, as another one of Bell's Instagram posts indicated.
Yet, like clockwork, the mommy shammers jumped on her Instagram posts with criticism and accusations, according to Dearly. One Instagram user wrote, "I'm sorry – gross. Take a bath," while another commented, "Unshowered for 5 days. Maybe Amazon can send a drone with some moist towelettes."
And one person said, according to Dearly: "Five days no shower. I don't care who you are, bath [sic] your child after a day at the beach. This child went to bed sandy and God only knows what else. Bet dear mommy took a bath or shower ever day. (Or did she?). You need to take better care of your child."
I know Bell and Shepard do not need defending from a 35-year-old journalist living in Texas, but I'm sure the couple takes care of their child just fine, thank you very much.
The comments weren't all negative, though. Some of Bell's fans came to her defense after the 38-year-old actor was slammed for not showering her kids for a few days. One parent commenting on her Instagram post that "that's a perfect life for kids," while another Instagram user said, "I just want to thank you from the bottom of my heart for being so real."
And Bell is always so real. She seems to make it a point of being honest not just about her life, but also the way she parents. As a mom with a few perceived flaws, it's refreshing to hear public figures be open with who they are — even if that's admitting their children haven't showered because they're having their time of their lives.