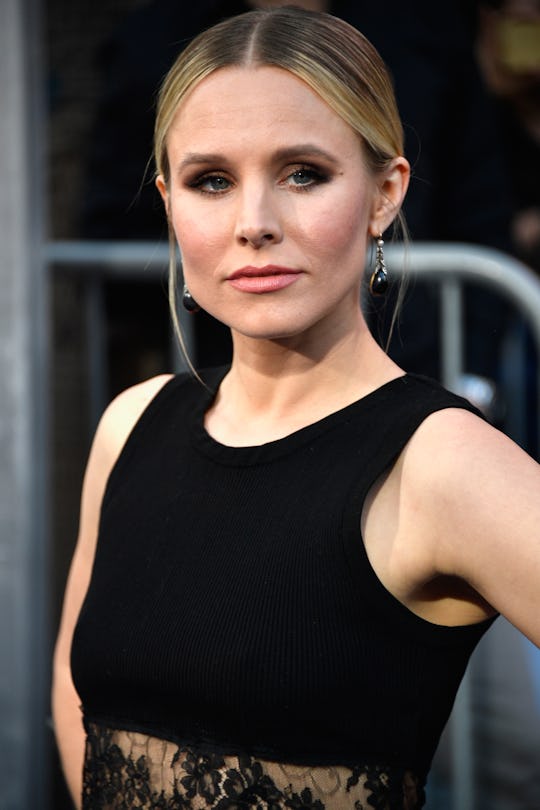 Frazer Harrison/Getty Images Entertainment/Getty Images
Kristen Bell Is Dressing For Herself, Not Her Husband
I like to believe every woman has at least one item in her closet that requires exactly no one's approval. Not her best friend's approval, not her mother's, and not her partner's either. For me it's a pale yellow caftan that makes me happy for me and me alone. At least one actress out there knows exactly what I'm talking about. In an interview with PeopleStyle this week, Kristen Bell said Dax Shepard "doesn't get" her style — and quite frankly, it doesn't matter. Because she's not dressing for husband Shepard, at least not all the time. Sometimes, she's just dressing for herself. And I'll give a big fat cheers to that, Kristen.
Bell spoke to the entertainment outlet recently to promote her recent partnership with Tide on behalf of the #CleanPledge challenge (the detergent company's efforts to encourage customers to become more eco-friendly, even in the laundry room). Naturally, the conversation turned to clothes, and Bell opened up about the way husband Shepard (who stars in the upcoming CHIPS remake) views her fashion sense:
He gives me fashion critiques when I wear something, but he doesn't get everything. I'm not really dressing for him, I'm dressing for myself and other women. So, when I wear a pair of paper bag trousers, which I think are divine, he's like, What grandma did you get this from?! I'm like, you don't get it. You just don't get it.
Does she stop wearing the paper bag pants she loves so much? Nope. Because those pants are for her, not for him.
Shepard and Bell have been married for four years and are the parents of two little girls; 3-year-old Lincoln and 1-year-old Delta. The couple have always enjoyed a healthy dose of irreverent humor and honesty in their marriage, as evidenced by Shepard's recent visit to Late Night With Seth Meyers, when he admitted he had once been bumped off Meyer's show... in favor of Bell:
I was supposed to be on Wednesday and then I got a call from my publicist, who said, "They got a bigger guest, so you got bumped to Tuesday. Can you now fly out?" In my mind, I'm like, "I get it, man. Tom Cruise is selling something." So, I get home that night and Kristen goes, "I'm doing Seth on Wednesday. What day are you doing it?" My wife bumped me.
In trademark Shepard/Bell style, he naturally shrugged off the slight — just as Bell likely shrugs off any of Shepard's critiques of her style. Because she knows looking nice for your partner is just the icing on the cake; The whole point of being a grownup lady and picking out our own clothes is being able to dress for yourself anyway.
Bring on the paper bag pants, ladies.