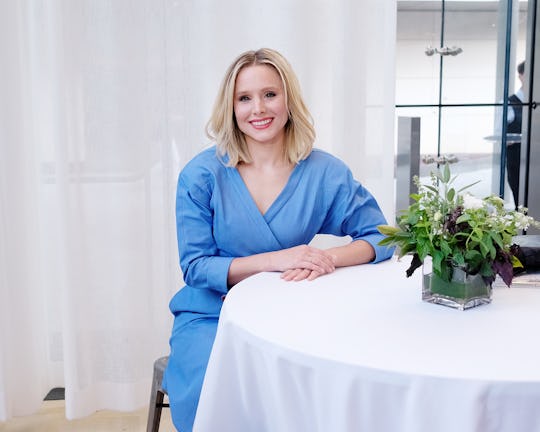 Nicholas Hunt/Getty Images Entertainment/Getty Images
Kristen Bell Spent Her Time Stuck In Hurricane Irma Entertaining Evacuees
There are very few people on this Earth who are perfect. OK, so, in reality, no human being is actually perfect, but some people manage to get pretty darn close. Of course, perfection isn't real (or attainable), but sometimes, someone does something that manages to make you believe in humankind again, and that's pretty extraordinary. Enter: Kristen Bell. The actress, singer, and mom of two, was in Florida when Hurricane Irma began its devastating approach towards the United States. It was too late for her to evacuate, so she made the best out of the situation. Yeah, Kristen Bell waiting out Hurricane Irma with fellow evacuees will actually make you believe in the good in people again.
As her Instagram posts indicate, Bell has been stranded in Orlando, Florida for a couple of days now, but she hasn't let that get her down. After literally rescuing Josh Gad's — her Frozen co-star — family from being stranded by Irma, Bell went on to assist another actor's family who were unable to evacuate. After putting Gad's family up in her hotel in Orlando, and then getting Jennifer Carpenter's grandmother and aunt to safety as well, Bell decided to keep the spirits lifted as she went to a local middle-school-turned-shelter to perform some songs. But that's not all.
Later, Bell learned that a group of local senior citizens had been evacuated to her hotel, while Irma raged on. So, what did she do? Go back to her room and take a nap? Get a massage? FaceTime Idina Menzel and practice their duet for Frozen 2 (I don't care if she actually ever does this, in my mind she does)? No, no. Bell went to hang out with the fellow evacuees and even played Bingo with them.
"There are a few thousand senior residents who evacuated to our hotel," she explained on Instagram. "We are gonna make lemonade outta Irma as best we can and I'm fueling up the only way I know how in order to call a few hours of BINGO!"
I bet you thought that was the end of this story didn't you? Well, it's not. Because Bell is literally an angel sent down from heaven she also found herself a little "side piece," and sang "You Are My Sunshine" with him.
Listen to the heartwarming masterpiece below:
I'm not crying, you're crying. Seriously, what did us mere mortals do to deserve the perfection that is Kristen Bell?
Of course, Hurricane Irma is terrible and hopefully all who are in its path stay safe. But if the bad news is starting to get to you, just remember what Bell has been up to these past few days. She's spreading light and love in the midst of tragedy — and that's pretty perfect.
Check out Romper's new video series, Romper's Doula Diaries: