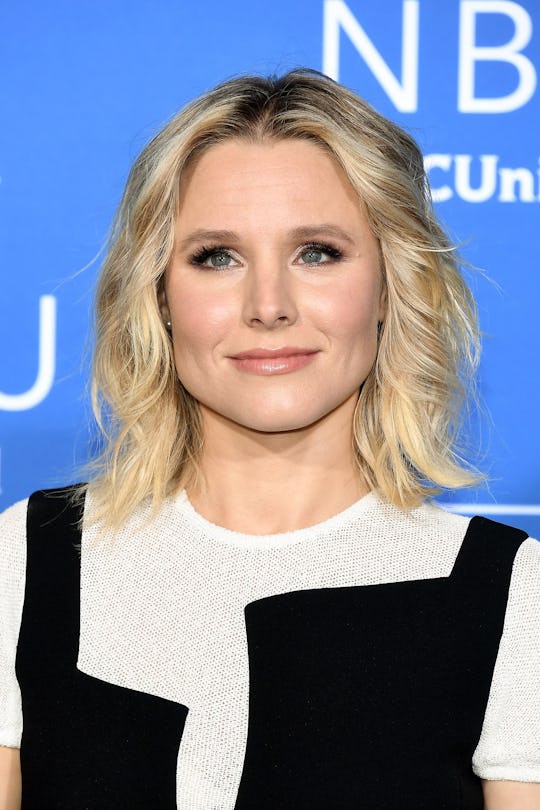 Dia Dipasupil/Getty Images Entertainment/Getty Images
Kristen Bell's Brilliant Traffic Safety Hack
Kristen Bell has basically become everyone's favorite mom (other than my own actual mom, of course, whom I love very much). The Frozen actress manages to be humble and down-to-earth while simultaneously giving the impression that the girl knows how to get s--t done. The mother of two daughters has turned her Instagram feed into a hotbed of amazing (and hilarious) life hacks for busy moms. In fact, Bell's brilliant traffic safety hack had actual parents thanking her on Instagram this week, and once you see it, you'll want to thank her too.
Bell and husband Dax Shepard have two daughters, 3-year-old Lincoln and 2-year-old Delta. The couple have always been refreshingly candid about their parenting trials and tribulations, and apparently dealing with traffic safety is no different. As any parent with two toddlers knows, traffic safety tends to be a game of simple math: too many little wandering feet and not enough parental limbs to stop them. And those little legs, as we all know, move with the speed of a Gold medal Olympian runner.
With that in mind, Bell shared a super helpful traffic safety hack that has apparently kept her own little ones "safe while she unloads the trunk." The trick, which Bell says was shared with her originally by her sister-in-law, boils down to this: "hands on the circle."
Bell shared a rare photo of her daughters' sweet little hands (and can we talk about that bracelet?) with the caption:
"hands on the circle!" The phrase we say as we jump out of the car. "Hands on the circle" (the circle is the gas cap)was invented by my brilliant sister in law, and has thus far kept all kiddos safe from any oncoming traffic while I unload the trunk.
Parents who follow Bell's Instagram were effusive in their gratitude.
User c.schempp wrote: Omg that's brilliant!
While user whitcalgal wrote: Well this is genius. Much better than my "red light! Red light!!!!!"
This isn't the first time Bell has shared a killer parenting hack on Instagram; while travelling with her daughters by plane in May, she apparently had a slight pull-up emergency. Which she dealt with like a champ.
Bell used a simple hair tie to keep the pull-up together, thus saving everyone on the airplane from the ticking time bomb that is a broken pull-up. She has now secured her status as the MacGyver of moms, fixing broken diapers and keeping children safe with whatever she happens to have on hand.
If only Bell had been on hand when my own children were toddlers. Oh the time I wasted chasing them through traffic...