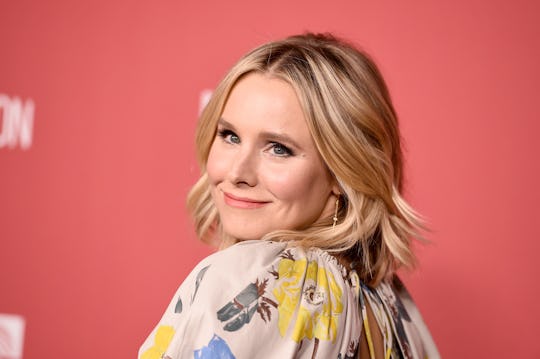 Frazer Harrison/Getty Images Entertainment/Getty Images
Kristen Bell's Funniest Mom Photos Prove That Life With Two Toddlers Is Never Boring
Kristen Bell is understandably adored by her fans. Not only is she crazy talented, fights for causes she loves, but she's also hilarious. And having kids might have made her sense of humor even more side splitting. If you don't believe me, just take a gander at some of Kristen Bell's funniest mom photos and try not to crack a smile.
What's just so lovable about Bell is that she's just totally frank about family life, whether she's self-deprecating about being a "bad" mom or laughing at her and husband Dax Shepard's best efforts to keep two adorable little humans alive.
Whatever those two are doing, it seems to be working. The couple have two daughters, Lincoln, 4, and Delta, 2, so you know they keep her busy. She told The Independent leading up to the release of her film, Bad Moms Christmas:
I talk myself down all the time. I feel pressure to be perfect on a daily basis, and sometimes you're doing great and other times you're not. There's been moments where I have dropped my kids off at school, truthfully, wearing two different Birkenstocks because I got ready too fast or I've not worn a bra. But I chose to find comedy in that and not shame myself.
Her fans should be glad that she decided to take the high road and set an example for moms everywhere. Here are a few standouts.
It's A Metaphor
Kids are great, but they really know how to fork up a living room floor, don't they? Her fans really loved this shot, filling up her comments with sighs of relief. One wrote, "Can I just say: I'm so glad I'm not the only one whose kids leave all dolls naked any chance they get? And the chaos!"
Improvisation Is Key
Traveling with diapers is never easy. But hair ties are basically the parenting version of duct tape.
Frozen, The Movie That Keeps On Giving
And you thought your kid was obsessed with Frozen. Imagine actually being the star of the show. She told Jimmy Kimmel last year, according to Entertainment Tonight, that at first her girls weren't into it. She said:
They live to break down my self-esteem. It's that, and they don't watch much TV. I mean they're 1 and 3. They're new to it all. But [the 3-year-old] was sick last month and Dax had said, "Should we put on a movie? Should we blow her mind and put on Frozen?" And we did, and about 15 minutes in she said, "Mummy, I think you should turn this off." She didn't like it.
Is It The Mom Jeans?
I guess Bell was right about them living to break her confidence. Luckily, she knows when to quit. She told Us Weekly she can only handle toddlers for so long. "We switch kids all the time. If I'm talking to the 2½-year-old and I'm done, I'll just be like, 'We've got to switch. I don't want to talk to this kid anymore.'"
Well, That's Nice Of Them
This is why we can't have nice things, right? She told The Independent, "Our house looks like a giant arts and crafts dumpster. We make our own decorations every year. I give the kids construction paper and crayons and whatever they come up with, I just tape it on the walls."
Sharing The Credit Is Necessary, Too
Her and Dax have talked about how they do "tag team" parenting before. It's quite the strategy. "It's not about perfection, but it is about being thoughtful and not reactive. So in order to not be reactive, we switch kids a lot," she told People.
Do It Like A Mother
Parenting isn't just about the kids. It's also about how badass moms are for getting the job done. If you want something done, it's best to do it "like a mother." Bell certainly seems to have the technique down.
Check out Romper's new video series, Romper's Doula Diaries:
Watch full episodes of Romper's Doula Diaries on Facebook Watch.