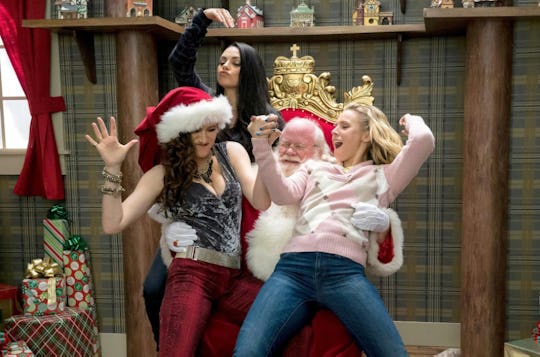 STX Entertainment
'A Bad Moms Christmas' Is Over The Perfect Mom Archetype, & It's About Damn Time
Fine, I'll say it: Moms are under an unbelievable amount of pressure. Whether it is the pressure to have a perfect, seamless birth (FYI, that doesn't exist); the desire for easy and painless breastfeeding that doesn't leave anyone in tears (you or the baby); or getting your kid to sleep through the night so you can close your eyes, too, moms are held up to crazy standards from the moment their kids are born. The pressure, sadly, doesn't seem to stop once the kids are older and more self-sufficient, either. That tension seems even more compounded around the holidays, where everything from nabbing the perfect gifts, having the best decorations, and serving the most delicious food (that takes into consideration everyone's dietary restrictions) makes a holiday like Christmas an annual month-long marathon to survive rather than a joyous time of the year for moms with kids of all ages.
There is a new film urging moms to shake off the pressure the holidays create by highlighting some moms who, once again, say to hell with those extreme and unrealistic expectations. A Bad Moms Christmas, which opened Nov. 1, finds Mila Kunis, Kristen Bell, and Kathryn Hahn, the same self-declared "bad moms" from the original 2016 film, tackling the biggest holiday of the year for many parents: Christmas. While the first movie was a hilarious take on the so-called "mommy wars," the sequel takes aim specifically at Christmas and all of the nonsense that comes with it. There's the gift buying, the wrapping, the decorating, the parties, the clothes, the multiple school recitals, and of course just the intense crushing requirement that it all be perfect. Much of it is self-imposed; what parent doesn't want their kid to have a great holiday full of memorable experiences? (News flash: they probably won't remember a thing.) But the societal pressures put in place by the toy industry, or the cooking networks, the home decor stores, or other parents can make you feel like a complete failure, even if you know, deep down, that those expectations are total BS.
Even though the movie is a dirty (there's lots of ball waxing), raunchy, drunken, good-girls-gone-bad type comedy, A Bad Moms Christmas actually relays an important message to moms during the holidays: Stop putting the pressure of perfection on yourself. The perfect holiday season doesn't exist, much less come from a store-bought box. It looks different for every family, and the most important thing for the holidays to include isn't an in-demand small plush animal that hatches from a fake eggshell — the holidays need to be filled with love.
In 2016's Bad Moms, Amy (Kunis), Kiki (Bell), and Carla (Hahn) found themselves thrown into a massive "mommy war" with the PTA president, Gwendolyn (Christina Applegate). Unlike the first film, A Bad Moms Christmas bypasses the bake sales and PTA meetings and has its titular ladies battling familiar foes: Their own mothers who have all arrived in town for the holidays. Kiki's mom, Sandy (Cheryl Hines), is exactly a sweet, clingy, and eclectic woman you'd expect doe-eyed Kiki to be raised by. Carla's mom, Isis (Susan Sarandon), is a bit of an absentee mom, who only rolls through town when she needs money.
And then there is Amy's mom, Ruth (Christine Baranski). Ruth is perfect, particularly when it comes to the holidays. Or at least, she is in her own mind. She provides an expensive gift for Amy's kids nearly every day of her visit. As a wealthy woman who believes presentation is everything, she dresses in head-to-toe designer wear. She procures opera tickets for the entire family for the "real," five-hour long Russian Nutcracker. She also whole-heartedly stands by the fact that moms "give joy, not enjoy" Christmas. She's a highfalutin snob who wants nothing more than for Amy to want the same kind of Christmas experience for her own children.
But after years of pressure from her mother to strive harder, do more, and be better, Amy finally "cracks." With Kiki and Carla by her side, the women wreak havoc on the local mall, stealing tinsel trees, taking over the speaker system, and spiking apple cider samples, reminiscent of the bender they went on in Bad Moms.
The thought that keeps me up at night is my inner-critic asking, "Did my child have the best Christmas possible?"
As a first time mom of a new baby, I'm dreading the feeling of needing to meet the expectations of my kid's first Christmas. He'll only be 10 months old at the time, and let's be honest, won't remember a thing, but I still feel the pressure to have the best first-Christmas gift for my son, and the perfectly-designed holiday card with him, my husband, and I in matching holiday outfits and movie-set level background decor.
The thought that keeps me up at night is my inner-critic asking, "Did my child have the best Christmas possible?" And if he didn't, is it because I did something wrong?
The intensity with which society expects moms to transform into some kind of Martha Stewart Christmas elf every December is nerve-wracking. Think about how many perfect holiday commercials and TV specials on The Channel That Shall Not Be Named (OK, it's HGTV) make Christmas look like a miracle of decor, cuisine, and experience. It is internal guilt manifested into a snowflake-accented visual aid of shame, because it often feels so unattainable.
A Bad Moms Christmas does a great job in combating the oft unrealistic archetype that mothers need to be the straight-man in holiday films. In many Christmas movies, the mom is the one who is more level-headed and has her sh*t together, like in It's A Wonderful Life or National Lampoons Christmas Vacation. The entertainment industry has a tendency to create a sort of "Holly Holiday" character who knows exactly how to turn a delicious lobster claw into a holly jolly Santa Clause, or who has already purchased the already-sold-out toy months in advance.
That archetype is why seeing women portrayed as "bad moms" (which really just means realistic moms) is so refreshing and needed. Moms deserve to see women in roles that can inspire us to not put such intense demands on ourselves and discard the need to feel perfect in every aspect of motherhood. Yes, it's just a movie, but it is so important for these images of women to be represented in media. The entertainment industry hasn't always been fair to women, and characters like Amy, Kiki, and Carla are righting the many years of wrong, one dirty Santa at a time.