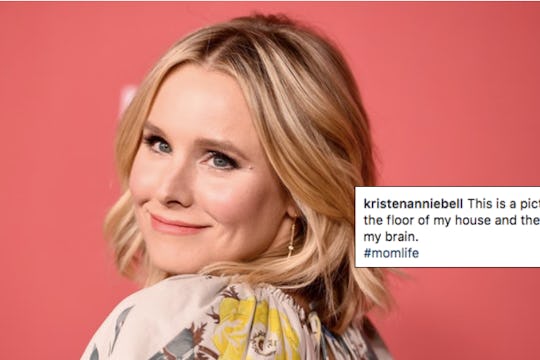 Frazer Harrison/Getty Images Entertainment/Getty Images
Kristen Bell's Messy Living Room Will Look Oh So Familiar To Every Other Mom
Kristen Bell's social media feed reads just like every great conversation I've had with the other moms at school pick-up time. The honesty, the sort of happy frustration that comes with small children and all of their ensuing chaos. Every time I read something the Frozen actress has written, I think I might actually say Oh, I know! out loud like an insane person. Her recent share on Instagram was no different; Bell shared a pic of her living room floor covered in toys, and I guess it doesn't matter if you live in a big Hollywood mansion. Kids kind of don't care, they'll leave their crap everywhere.
Bell is mom to two little girls, 4-year-old Lincoln and 2-year-old Delta, who she shares with husband, CHIPs actor Dax Shepard. The couple might not share pictures of their daughter for privacy reasons, but Bell has no problem opening up about her own experiences as a mom. She recently spoke out about the ridiculous expectations out there for moms to be perfect, and why she's simply not on board, according to The Independent:
You cannot beat yourself up because your house doesn't look like a Pinterest board.
Cheers to that.
Bell proved she is not one of those moms who manages to keep their homes looking pristine by posting this pic on Instagram with the insanely apt caption:
This is a picture of both the floor of my house and the interior of my brain. #momlife.
All kinds of yes for that; the messy floor, the mind-numbing exhaustion of motherhood. All of it.
For the record, Us Weekly reported that Bell and Shepard live in a $4.3 million mansion in Los Angeles with their two little girls. Angelina Jolie is reportedly one of their neighbors. They probably even have more than one bathroom, unlike this girl right here. So if their kids are dumping toys all over the place, should I be beating myself up about the smell wafting under the closed door of my teenage son's bedroom?
Nope.
During her interview with The Independent, Bell made what I like to think of as the perfect pitch for hot mess moms everywhere: perfection is super boring. She explained:
Everything about being a mum is stupid and funny and you always smell like urine. And there's nothing funny about perfection, but there's a ton of comedy in imperfection, and that's what being a mum is — dealing with your imperfection. We can all relate.
The Bad Moms Christmas actress even plans ahead to just soak up the chaos of the holidays and let the whole family do what they want. She told The Independent:
Our house looks like a giant arts and crafts dumpster. We make our own decorations every year. I give the kids construction paper and crayons and whatever they come up with, I just tape it on the walls. We have a lot of matching sweaters and matching pajamas. Its very decorative — which is really the only thing we care about because we'll spend the whole day decorating or just playing and forget to make dinner. We're not very regimented.
This is what would make Bell such a great mom friend; the girl knows how to get real and get funny about getting real at the same time.
So there it is, folks, a public service announcement from Kristen Bell to simply let yourself off the hook for being a regular human who isn't perfect. A person who might have a messy living room floor or dishes in the sink, but so what? At the end of the day, what does any of that even mean?
It means you're like Kristen Bell. And I'll take that action any day of the week.
Check out Romper's new video series, Romper's Doula Diaries:
Watch full episodes of Romper's Doula Diaries on Facebook Watch.