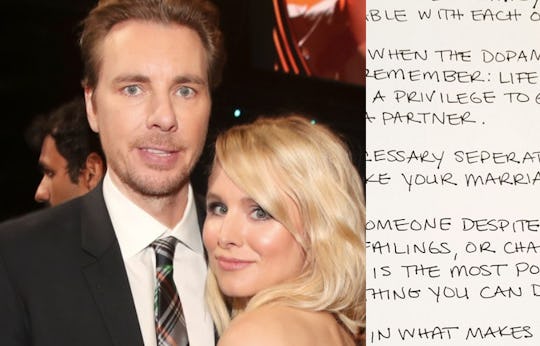 Christopher Polk/Getty Images Entertainment/Getty Images
Kristen Bell's Tips For Her Happy & Healthy Marriage With Dax Shepard Are A Must-Read
Have you ever wondered how Kristen Bell and Dax Shepard manage to stay so happily married after 10 years and two kids? I mean, is there a single photo of the couple in existence where they don't look either ecstatically happy, silly, fun, or even just real? Even in the realm of social media, where most people have grown cynical of celebrity faux reality, Bell and Shepard are clearly the real deal. So when Bell offered tips for a happy and healthy marriage on Valentine's Day, fans dropped everything to read what she had to say. Because this girl knows what she's talking about.
The Good Place actress has been married to fellow actor Dax Shepard since 2013 and the couple are parents to two daughters, 4-year-old Lincoln and 3-year-old Delta. The two were in a relationship for seven years before getting married, and have been through more than their fair share of ups and downs. Shepard struggled with addiction in the early years of their relationship, while Bell has been refreshingly open about her struggles with depression. And yet, here they stand. Together.
So when Bell was recently asked by a "nice man" to write a letter to his friends who were getting married, she decided to do something a little different. As she wrote on Instagram, "I wrote something congratulatory but then thought 'Kristen! Wait! You are an old married woman, shouldn't you have some wisdom to share?!' After I was finished I realized what I wrote is pretty much the A-Z of how @daxshepard and I keep our relationship healthy. Its worked for us so far, So here ya go. ♥️♥️♥️"
So if you've ever thought to yourself, Hmm, can I have a marriage as delicious as Kristen Bell and Dax Shepard's?, it seems you can. In fact, the Veronica Mars' actress just gave you a step-by-step recipe. And this recipe for a stronger relationship might have just saved my own partner's night, because I'm going to take a page out of Bell's book and try it out with him. We're going to try a little vulnerability with each other as per Bell's instructions, consider some "necessary separateness" and perhaps even love each other despite our flaws. Then try out a smidge of rejoicing in what makes the other person happy, and finish things off with trying to get a "bigger emotional tool box" to help us understand our problems.
And he's at work thinking it's another night of re-watching Game of Thrones, won't he be pleasantly surprised?
I'm not the only one to take Bell's advice to heart. Her Instagram followers shared messages of gratitude. One wrote, "so cute thank you for sharing this! You guys are the cutest couple in the world, I must say hit-and-run is my favorite movie of you guys."
Another chimed in, "could I please print & use this somewhere at my wedding on April 7? It's lovely." Yet another wrote, "The best words. In 9 years of marriage, I can attest that these things are true."
Bell shared a sweet Valentine's photo of herself and her husband later on in the day, and if the caption she wrote wasn't unmitigated proof that they have a relationship worth striving for, I don't how what would be.
She captioned the photo:
To the man who I've known for an eternity yet learn new things about everyday; who has been with me through thick and thin(and loved my 47lbs of baby weight); who is as interested in PDA as I am; who tattooed my last name on his ring finger beacuse he hates jewelry; who always puts up our Xmas lights; and who never fails to mock my red carpet pose. I love u with my whole ♥️@daxshepard
I'm not usually one of those copy-cat girls, but I'm 100 percent copying Kristen Bell from now on. Well, I'm going to take out a pen and copy out her list of marriage tips in my own handwriting and tape it to the fridge as a public service to all who will see it. And I'll even give her credit... just in case she pops by one of these days, I don't want our best friendship getting off on the wrong foot.
Check out Romper's new video series, Bearing The Motherload, where disagreeing parents from different sides of an issue sit down with a mediator and talk about how to support (and not judge) each other's parenting perspectives. New episodes air Mondays on Facebook.