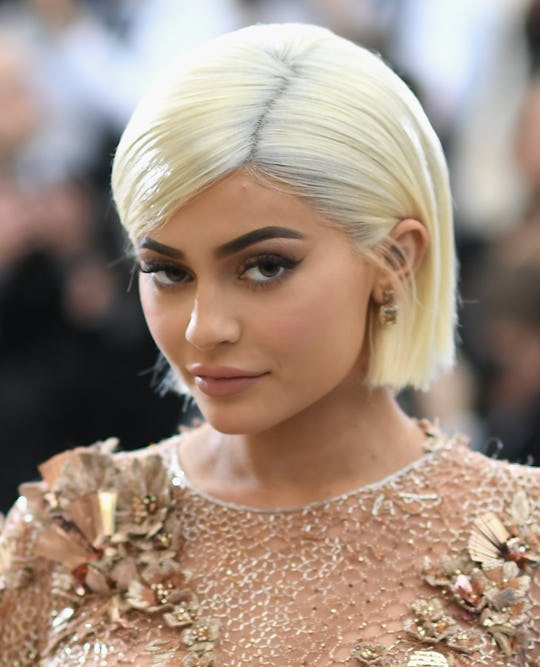 Dimitrios Kambouris/Getty Images Entertainment/Getty Images
Kylie Jenner Baby Name Theories To Tide You Over…
It's been 10 years since Keeping Up With The Kardashians first aired on the E! Network. When the show first aired, nobody had really heard of Kourtney, Khloe, or Kim Kardashian, let alone their little sisters, Kendall and Kylie Jenner. The youngest sister was just 10-years-old when the show started, a little girl who spent most of her time goofing off with her sister. Now she has grown into a woman, a makeup mogul, and reality star in her own right. Also it seems she is pregnant. While we all come to terms with this massive turn of events, let's comfort ourselves with Kylie Jenner baby name theories.
TMZ initially broke the news that Jenner was pregnant on Friday, and People confirmed the news by adding that she is expecting a baby girl in February with boyfriend, rapper Travis Scott. While no one from the Kardashian/Jenner camp have confirmed that the 20-year-old star of Life Of Kylie is pregnant, mom Kris Jenner was asked about the rumor on Saturday by The Cut. She was watching daughter Kendall walk the Bottega Veneta runway at Milan Fashion Week on Saturday and was especially non-committal about the news. Jenner and was of the "neither confirm nor deny" school:
I just woke up this morning. She's not confirming anything. I think it's kind of wild that everyone is just assuming that that's just happening.
She went on to note that her family is always in the news, and one just never knows what the day will bring (wink, wink):
Something happens every single day. You never know what is going to break at any moment.
As we wait for any of the Kardashian/Jenners to officially confirm Kylie's pregnancy (perhaps during the 10th anniversary of Keeping Up With The Kardashians on Sunday?), there have been hints that Kylie has been thinking of baby names for some time. She wrote about the possibility of having a baby last September on her website, thekyliejenner.com, when she was still in a relationship with rapper Tyga. Jenner wrote:
I keep a list in my phone of names I like for my future kids. But they're my secrets for now!
I wonder if any of them start with a 'K.'
Three of her older siblings have children, and they haven't gone for matching their kids' names as was the Kardashian/Jenner tradition, other than brother Rob Kardashian, of course (he was named after his father, Robert Kardashian Sr., who died from cancer in 2003). Rob Kardashian and ex-partner Blac Chyna named their daughter Dream when she was born last December, while sister Kim and husband, rapper Kanye West named their five-year-old daughter North and two-year-old son Saint.
The oldest Kardashian sibling Kourtney is mother to three children with ex-partner Scott Disick; seven-year-old Mason, five-year-old Penelope, and two-year-old son Reign. The names are all over the map, so it's difficult to pin potential Kylie name choices based on them (Kim and husband Kanye are also reportedly expecting twins via a surrogate this February, which means the Kardashian family could grow by three within one month).
For now, there are plenty of theories buzzing around the internet about Kylie Jenner's pregnancy. Some think the whole thing is a public relations hoax, others that the baby could be ex-boyfriend Tyga's child, while some even think she could possibly be sister Kim's secret surrogate.
But possible baby names? So far the only theories are lip shade driven; after all, Kylie Jenner did name one of her famous Lip Kits after sister Kourtney's daughter Penelope. In Style magazine was thinking names like Jade, Scarlett, Olive, or the already existing (and adorable name choice) Posie could double as lip colors and baby names.
But for now, we shall just have to wait and see what Kylie comes up with. Unless someone can get a glimpse at her phone... then we'd be cooking.